Why Scotiabank wanted to reach the diligent planners on Pinterest
Using the Pin Extension ad format, the bank tried to reach users as they sought inspiration for big financial purchases.
Scotiabank has become the first Canadian financial institution to use the Pinterest Pin Extension ad format with the launch of a campaign for its MomentumPlus savings account.
Since "Pinners" also tend to be diligent planners, Scotiabank and its agency PHD saw an opportunity to reach users where they are planning for big life moments such as getting married, buying a house or planning for their first baby.
"As consumer habits continue to evolve and social media platforms transform into an interactive marketplace, we look for innovative ways to connect with our customers and deliver content that's both entertaining and informative," says John Rocco, VP of marketing at Scotiabank, of why the bank looked to Pinterest for this campaign.
Clicking on the Scotiabank Pin Extension Ad takes users through a series of probing questions to discover what they're planning for. It then shows the user what is possible with the MomentumPlus savings account.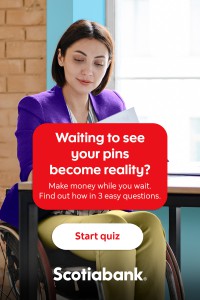 Internal Pinterest research found that over 80% of its users use the platform for inspiration throughout their financial services purchase journey and, because they are eager to learn more about financial planning and services, searches for "financial education" are up over 155%. These findings set the stage for Scotiabank to encourage users to open a MomentumPlus savings account while they are thinking about other life moments.