Astral Out-of-Home to build presence at Montreal-Trudeau Airport
A new long-term deal includes investment in what is described as modernized, innovative ad products.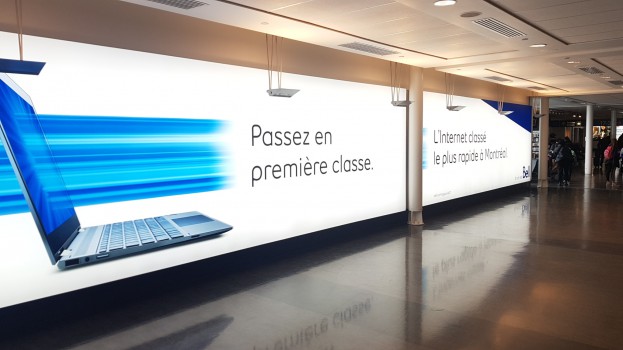 Astral Out-of-Home has signed a new deal with Aéroports de Montréal to reaffirm the OOH company's presence in Montreal-Trudeau International Airport, in addition to setting up new advertising innovations for the future.
Astral OOH and ADM have had partnerships stretching back more than 20 years, but the new long-term deal – which gives Astral exclusive OOH rights at the airport – also comes with a capital investment towards new exterior and interior ad products at Trudeau. There is also a commitment to "future transformations of digital products within the airport."
Though details of what those investments and commitments will entail have not yet been disclosed, Farshad Kajouii, VP of pricing, operations and OOH at Astral parent company Bell Media, says they include modernizing ad infrastructure at the airport and "be the benchmark for out of home advertising in Canada."
The financial terms and exact length of the deal were not disclosed.
Existing Astral ad products at Montreal-Trudeau cover all areas of the airport, with formats including digital networks, video walls, static displays, large format outdoor products and exhibition areas, in addition to custom executions.
Montreal-Trudeau Airport welcomed 20.3 million passengers in 2019, though like most airports, it has had a sharp downturn in foot traffic during the pandemic, with 5.4 million passengers in 2020 and 5.2 million in 2021. However, 2.3 million passengers came through the airport in Q4 2021 as pandemic travel restrictions eased, a 305% year-over-year increase and roughly half the passengers it had in the same quarter in 2019.
In addition to Montreal-Trudeau, Astral OOH has advertising rights in the two biggest airport in Canada – Pearson Airport in Toronto and Vancouver International Airport – as well as Halifax-Stanfield International Airport, Macdonald-Cartier International Airport in Ottawa and Jean-Lesage International Airport in Quebec City.