Spotted! Portable screens keep fans engaged at Jurassic Park
Big Digital's interactive "ROLOs" were used for contextual ads and contest opportunities outside of Raptors playoff games.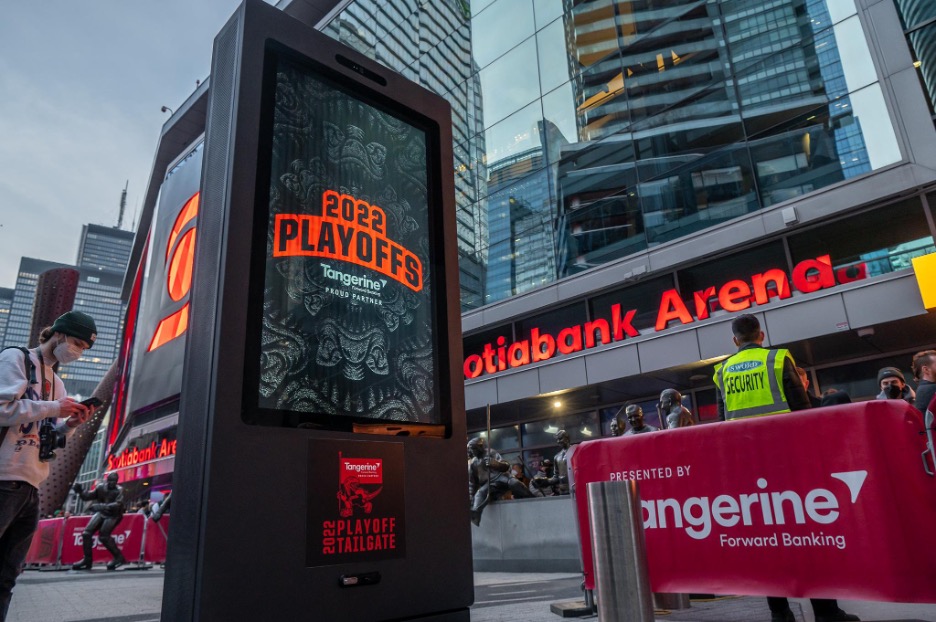 Big Digital partnered with Maple Leaf Sports & Entertainment (MLSE) to join in the excitement of the Raptors home playoff games with its interactive boards outside of Scotiabank Arena, better known as Jurassic Park.
The eye-level, portable boards, called "ROLOs," are capable of providing real-time messaging and contextual advertising, as well as integrate with platforms like Twitter.
During the games three and four of the Raptors' games against the Philadelphia 76ers, fans headed into Scotiabank and those content to watch the game outside saw a rotation of ads for MLSE sponsors Coors Light, Ford and Tangerine on the Big Digital screens, but also a "scan to win" QR code contest for Raptors merchandise. Based on what was going on in the game inside, the screens were also used to whip up fans in countdowns to start cheering.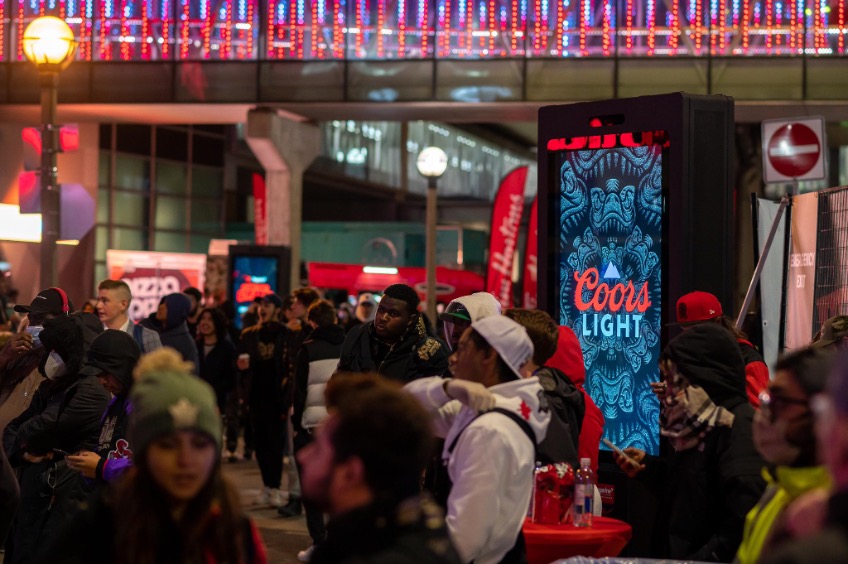 Big Digital offers two types of portable vertical boards in its inventory: the "ROLOs" for outdoor events and "Rubies" for indoor executions. Matthew Diamond, chief growth officer for Big, says that the vertical format and the quality of its visuals deliver a big impact.
"We've noticed that the design of vertical billboard for the consumer almost looks like a smartphone," he points out. "That pagination and layout appeals to consumers, particularly younger demos, who are comfortable interacting with this because it reminds them of their smartphone."
Big Digital has designed its units to fill a void in the marketplace for on-demand portable digital billboards to communicate in real time, at any place and any time. The outdoor structure offers high resolution and 5G connectivity that can push real time content at a moment's notice. Its portability is also to a degree that the unit can be moved around at a sporting event, concert or festival after it has been dropped off, thanks to heavy duty battery power that allows it to be used without connection to a power source.
Based in Toronto, Big Digital is setting up partnerships in key markets. It already has partners in Los Angeles and Las Vegas and has executed successful activations with MTV in California and Wendy's in Las Vegas during March Madness. The company is targeting Miami and New York City next.