The Good Doctor knocks Survivor from top spot: Numeris
Meanwhile, NHL and NBA games performed very well across major markets.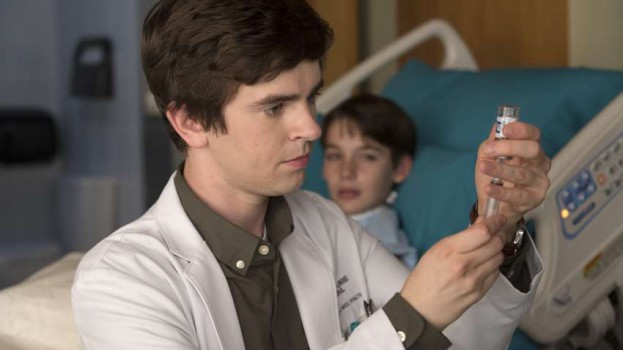 CTV's The Good Doctor is once again the top-rated show in Canada, according to Numeris data for April 11 to 17.
After two weeks at the top, Survivor dropped to second as the third-to-last episode of The Good Doctor's fifth season earned 1.810 million viewers.
Regionally, sports continued to do well in all major markets as the NHL season nears its end and teams across Canada look to secure or improve their playoff spots (some games were counted as multi-night broadcasts by Numeris, and may not be included in the single-night broadcasts below). Additionally, the Raptors playoff series against the Philadelphia 76ers found its way into the top five in Toronto/Hamilton.
In Quebec, Star academie continues to be the most-viewed show among Francophone audiences, drawing 1.417 million viewers.
National
1. The Good Doctor on CTV Monday at 10 p.m.: 1.810 million
2. Survivor on Global Wednesday at 8 p.m.: 1.689 million
3. 9-1-1 on Global Monday at 8 p.m.: 1.536 million
4. 9-1-1: Lone Star on CTV Monday at 9 p.m.: 1.456 million
5. FBI on Global Tuesday at 8 p.m.: 1.385 million
Quebec (Francophone)
2 Star académie 2022 – Le variété TVA ……S 19:00 21:12 1 1417
3 En direct de l'univers SRC …..S. 19:00 20:00 1 1120
4 Les enfants de la télé SRC ..W…. 20:00 21:00 1 1061
5 Infoman SRC …T… 19:30 20:00 1 979
6 Facture, La SRC .T….. 19:30 20:00 1 929
Toronto/Hamilton
1. NHL Hockey on Sportsnet Sunday at 7:41 p.m.: 436,000
2. The Good Doctor on CTV Monday at 10 p.m.: 425,000
3. NBA Playoffs on TSN Saturday at 6 p.m.: 372,000
4. 9-1-1 on Global Monday at 8 p.m.: 351,000
5. Survivor on Global Wednesday at 8 p.m.: 322,000
Montreal
1. NHL Hockey on TSN Friday at 7 p.m.: 63,000
2. This is Us on CTV Tuesday at 9 p.m.: 58,000
3. 9-1-1: Lone Star on CTV Monday at 9 p.m.: 49,000
4. Survivor on Global Wednesday at 8 p.m.: 48,000
5. 9-1-1 on Global Monday at 8 p.m.: 46,000
Calgary
1. The Good Doctor on CTV Monday at 8 p.m.: 94,000
2. 9-1-1 on Global Monday at 9 p.m.: 84,000
3. The Equalizer on Global Sunday at 82,000
4. FBI on Global Tuesday at 9 p.m.: 75,000
5. 9-1-1: Lone Star on CTV Monday at 10 p.m.: 73,000
Edmonton
1. Global News Morning on Global Saturday at 7 a.m.: 90,000
2. 9-1-1 on Global Monday at 9 p.m.: 81,000
3. Hockey Central on Sportsnet Saturday at 4:42 p.m.: 80,000
4. FBI on Global Tuesday at 9 p.m.: 72,000
5. Global News Morning on Global Sunday at 7 a.m.: 71,000
Vancouver/Victoria
1. Survivor on Global Wednesday at 8 p.m.: 202,000
2. The Masked Singer on CTV Wednesday at 8 p.m.: 162,000
3. 60 Minutes on Global Sunday at 7 p.m.: 149,000
4. The Equalizer on Global Sunday at 8 p.m.: 146,000
5. Ghosts on Global Thursday at 9 p.m.: 136,000