Samsung Ads has new ad inventory for its four million smart TVs
Discovery Masthead is now available to Canadian buyers, as are an addressable guide that's inclusive of linear and a gamer-focused interface.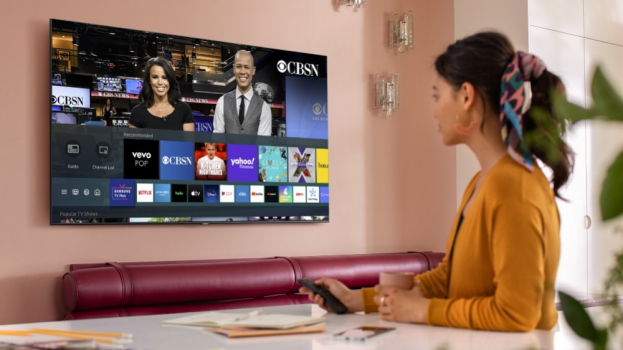 Samsung Ads Canada has launched a new suite of native, smart TV ad inventory aimed at giving advertisers access to 100% share of voice as soon as a viewer turns on their smart TV or looks for content on the App Store.
One of the new products is an Addressable Program Guide (APG), a service that aggregates live channels through various input sources, including terrestrial antennas and Samsung TV Plus, the company's ad-supported streaming service. APG ads are directly integrated into Samsung TV's native program guide.
The Discovery Masthead has also been brought to Canada. Accessible through the Samsung TV App Store, the feature allows advertisers to reach consumers who are actively looking to discover new content, apps and
services. In beta tests, brands and media companies that have used the product experienced higher clickthrough rates and brand lift. Due to the product's strong performance in other markets, Samsung has consistently sold-out Discovery Masthead Apps Store inventory quarter on quarter.
The last of the new products is a UI that gives viewers a personalized experience designed to drive discovery based on their habits, while also giving advertisers enhanced insight into consumer behavior. The UI is particularly geared towards gamers: the experience is meant to be seamless with whatever they happen to be playing on their TV. It also lets advertisers engage a growing and highly sought-after audience via streaming on Samsung apps and devices.
"The new UI enables advertisers to take advantage of more content discovery, greater visibility, and stronger consumer engagement," says Dave Pauk, regional Sales director of Samsung Ads Canada. "When combined, these elements drive favorable business outcomes — whether that be new users tuning in, more time spent engaging with content, or more apps downloaded."
Samsung Ads says it has become the largest source of deterministic TV data in Canada, gathered from over four million active Samsung smart TVs. Samsung operates and manufactures both the smart TV hardware and software, enabling the company to offer unique ad experiences while engaging consumers before they go into ad-free environments.
Discovery Masthead is coming to Canada roughly one year after the company first announced it at last year's NewFronts. At its presentation at the 2022 NewFronts Tuesday morning, the company announced plans for four new owned and operated ad-supported channels, and also offered a closer look at its Total Media Solution, a full-service offering lets buyers manage and measure cross-platform media buys, including linear and digital streaming apps. No word was given on when either of the offerings would be made available in Canada.