How sponsors are activating around the NHL playoffs
Contests, limited time products and even a new hockey stat are among the ways brands are tapping into Stanley Cup fever.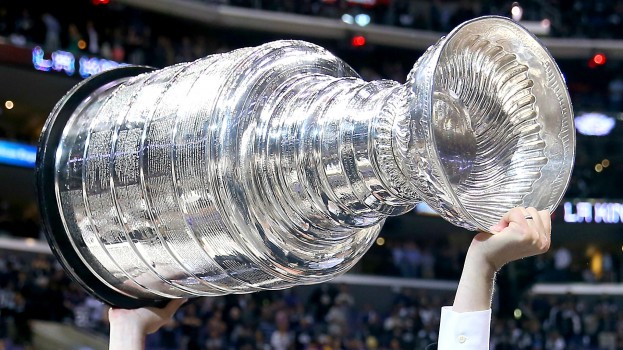 More than a dozen brands are extending their existing NHL sponsorships into new activations for the Stanley Cup playoffs. Below, we've compiled them into alphabetical order in one handy list so you know what to keep an eye out for.
Amazon Web Services
As part of a global sponsorship based around its AI and machine learning capabilities, AWS has helped the NHL create Face-Off Probability, a new stat that generates win probabilities based on "NHL Edge" data, which is also generated as part of the partnership. The new analytic will be featured alongside other NHL Edge stats on broadcasts and social media channels.
Budweiser
Budweiser Canada is conducting an on-pack retail contest dubbed "Ultimate Fan Cave" that will run throughout the playoffs and reward consumers with one of 50 "Fan Caves." The prize package includes a new TV, speakers, a beer fridge and NHL Live subscription.
Clutch
One of the league's newest sponsors has been running a social media contest on TikTok and Instagram to give away tickets and travel expenses for one of this year's Stanley Cup playoffs games.
Esso
To drive purchase of Esso Supreme fuel and adoption of its Speedpass+ mobile app, Esso is also giving away a trip for two to the Stanley Cup final. Contestants can enter whenever they purchase premium-grade fuel using the app.
The gas retailer is also running a social activation, prompting fans to comment with their predictions for the playoffs for a chance to win NHL Shop and Esso gift cards.
Kellogg's
In addition to a new 15-second Frosted Flakes spot that will be debuted during the playoffs on broadcast and digital channels, the company is running "The Snack That Scores," a point-of-sale campaign running at grocers across Canada.
Kraft Heinz
The company once again used the start of the playoffs for the Kraft Hockeyville Canada program. Voting was held on Friday and Saturday, with the winner announced on Saturday.
Kruger
The company is running the third edition of its "Find the Cup To Win" contest. Customers need to find three hidden Stanley Cups – two in Cashmere, Purex, Scotties and SpongeTowels packages, and one on the contest website – to win a VIP trip to the Stanley Cup final.
Molson Canadian
Molson Coors is bringing back "The Stanley Cup Batch," a limited-edition batch of Molson Canadian that was passed through the top of the cup during brewing, which may be the closest most fans ever get to drinking from the trophy. As part of a contest, cases of the beer also feature a QR code giving fans the chance to win a trip to the Stanley Cup Final.
Nestle
The confectionery's contest has already ended, but earlier this year, NHL-branded Single bars encouraged fans to purchase for a chance to win a trip for two to this year's Final.
Oikos
For the fourth year, the yogurt brand is running "Snack to Win," a contest that features a grand prize of a trip to the 2022 final, as well as a $25,000 prize pool.
Olymel
The Quebec meat company's first national NHL-themed contest is called "Savour & Score," with prizing including a trip for a family to a game of the winner's choice next season, in addition to a $12,000 prize pool.
PepsiCo
Pepsi and Lay's will once again run a co-branded in-store offer program, though this year's is running under a new "Snack & Score" theme around game-time viewing. The company is also bringing back limited-edition collectible cups to Circle K, with one based on each of the NHL's four divisions.
Rogers
The rights holder to all of the NHL's playoff games will be hosting "Hometown Hockey" viewing parties to different communities in Alberta through the first round of the playoffs, as well as running a contest offering fans of each Canadian team a chance to win a VIP trip to this year's final, as well as other chances to watch Canadian teams in action.
SAP
SAP is a global presenting sponsor of the NHL and NHLPA's Most Valuable Teacher initiative, programming from which will be incorporated into winner celebrations in each local market during the playoffs. Last month, SAP also announced the winners of its Future Goals Virtual Science Fair in April – this year's fair featured NHL players in video encouraged elementary-aged children to enter with their ideas for how to make hockey arenas more environmentally friendly.
Scotiabank
In addition to continuing to amplify this season's pledge for more diversity in hockey, Scotiabank is running Girls HockeyFest until May 29, offering women between seven and 14 drills and workshops with PWHPA members.
SkipTheDishes
The league's meal delivery partner is bringing back two things that have worked for it in the past: using an NHL-branded zamboni in its app's order tracker, as well as its "Playoff Pants" campaign during game broadcasts. It is also running an in-app finals sweepstakes which is played by entering the "STANLEY" promo code with an order.
Tim Hortons
The QSR is launching another playoff edition of the Tims NHL Hockey Challenge. Played through the Tim Hortons mobile app, the spin on fantasy sports asks loyalty program members to pick three players they believe will score during that night's games. Players earn reward points for each correct guess, with bigger prizes for those that guess correctly multiple days in a row or end the season at the top of the national leaderboard.