Google is giving users more control over which ads they see
My Ad Center lets users decide the brands they see on Search, YouTube and Discover, as well as which data is used to personalize their ads.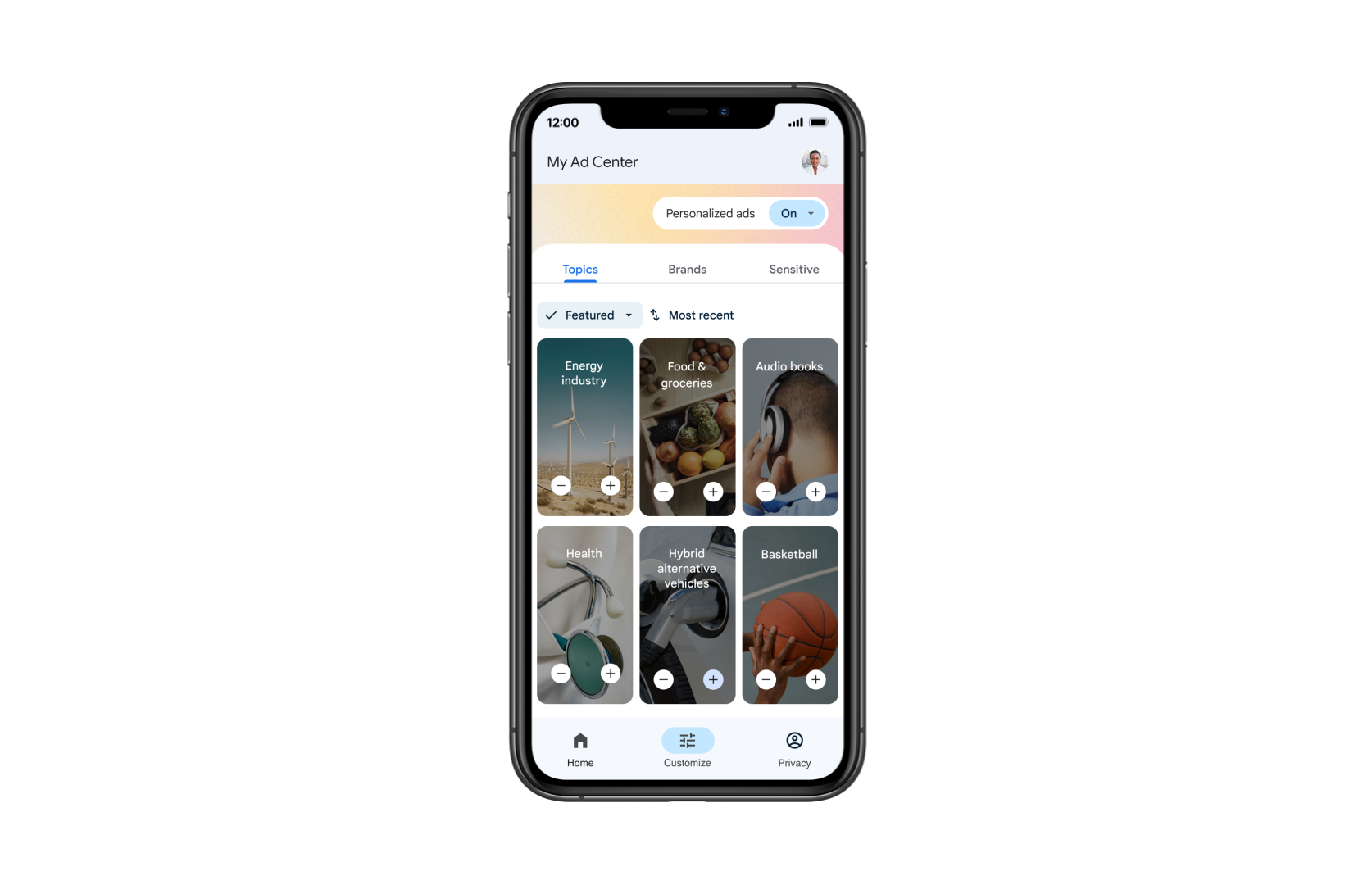 Google is developing a new interface that gives users more controls over which ads they see, though it will only impact the experience on Google's own sites.
Announced Wednesday afternoon during the Google I/O developer conference, My Ad Center aims to give users more control over the ads they see on Google Search, YouTube and Discover across devices, as well as which data is used to personalize their ads.
"Our users have told us what makes them feel better about their ad experience is when they are in control of it," David Temkin, Google's director of ad privacy and trust, said during a briefing with the press. "When they don't feel like they are in control is when we run into problems. If you see things that are more interesting to you, [the advertising experience] is more valuable."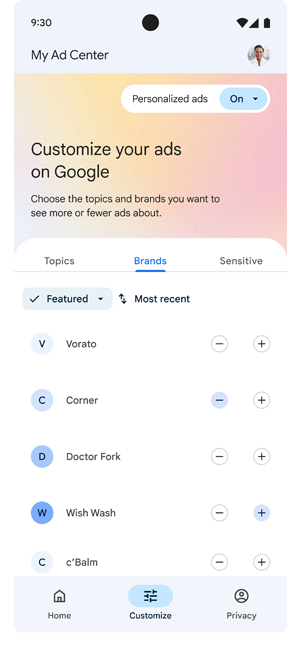 Through a centralized hub accessible from the Google services, My Ad Center lets users manage which data can and cannot be used to target ads to them, including demographic data, age, relationship status, education or home ownership status. They can also turn off ad personalization entirely, or correct personal data Google's machine learning systems have incorrectly predicted to make personalization more precise.
Users also have the ability to customize which subjects they receive ads for, so they can, for example, see more on products they are currently in the market for, and less once the purchase has been completed. They can also choose to see more or less from a specific brand, as well as block ads about sensitive subjects, such as gambling, alcohol, dating, weight loss and pregnancy.
In addition to a central My Ad Center hub, these controls are also accessible within the ad itself in a new page that will replace the current "About This Ad" section. That page will also give users info about who paid for the ad and which categories were used to target it.
My Ad Center also has features to allow ad targeting preferences to not impact how data is used for recommendations for non-ad content on other Google products – such as Search or YouTube – as well as, on the flip side, whether web and YouTube activity can be used to personalize ads.
My Ad Center is expected to launch globally near the end of 2022.
During a briefing with press, Temkin was clear to specify that My Ad Center was more about users personalizing the ads they see, and not how advertisers target ads. Though he acknowledged it would have some impact on targeting, advertisers will not have any visibility into which preferences users have set, and those would not impact things like frequency capping; rather, it just changes the likelihood of which ads get surfaced for a particular user.
"People talk a lot about the algorithm," Temkin says. "This gives users control over the algorithm, which we believe is a fundamental shift in advertising."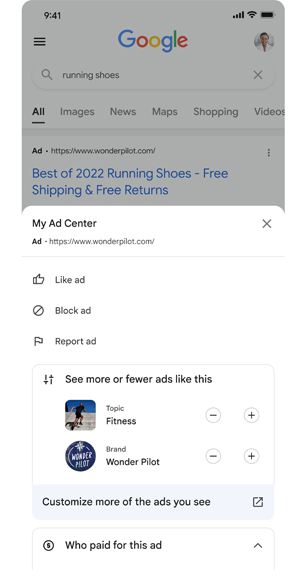 My Ad Centre will only apply to Google owned-and-operated services, and not ads served on other sites through the company's Ad Network. Temkin says this was due to the looming retirement of third-party cookies: in addition to making the data a non-factor for ad targeting across an audience network, it will also make it impossible for Google to control what happens on other sites. However, as part of Privacy Sandbox, users will have controls over their ads and data, either directly from a website or app, or at the platform level within Chrome or Android. Temkin also said there are plans to bring My Ad Center to other Google owned and operated services, such as Gmail, over time.
There has been some criticism levied at advertising and data controls that put the onus on the user. For example, earlier this year, the EU decided that website pop-ups that instructed users to go to separate page to learn more about how their data was used and opt-out of collection were not compliant with GDPR.
However, Breonna Danielle Rodriguez-Delgrosso, Google's lead UX designer for ads privacy and safety, said that during testing, users saw a clear benefit to diving into the controls.
"They want to feel a sense of control over their experience," she said. "It's come back to us over the last year that they do appreciate how easy it is to manage the experience and having access to the data controls. They are signalling back that they like being part of the conversation about what is meaningful to them."