Upfronts 2022: NBCU and Fox show their commitment to ads
PHD's Jeremy Johnston and Magna's Leanne Burnett-Wood offer their POVs on this year's first two big presentations.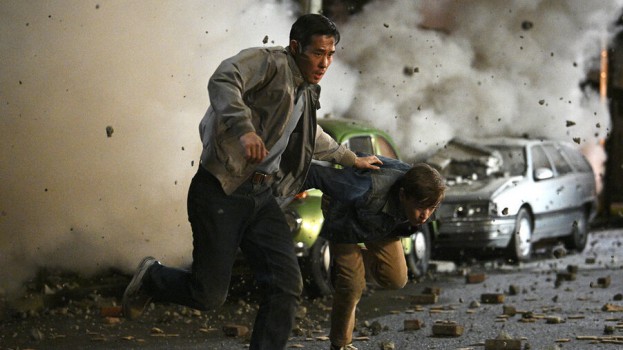 This week, MiC has enlisted execs from the Canadian media industry to offer their insights on the big programming and advertising announcements coming out of the 2022 Upfronts in New York. Today, PHD's Jeremy Johnston looks at NBCUniversal's new shows and streaming ad formats, while Magna's Leanne Burnett-Wood offers her thoughts on Fox planting its flag for ad-supported content.
NBCUniversal
As NBCUniversal kicked off the 2022 Upfronts, there were a few big questions as it prepares to enter the post-This Is Us era. The network needs to give marketers a safe place to land with the hit drama ending after six seasons. What fresh drama or two be to fill the gap? Could a Quantum Leap reboot (pictured above) be what it's missing? On the comedy side, can a Night Court revival ignite an otherwise light lineup? Will the company lean into streaming as it makes its pitch to bring new viewers to the platform and its content?
Comedy is back on NBC's fall schedule with an hour-long Friday block featuring the return of Dwayne Johnson's Young Rock and new George Lopez series Lopez vs. Lopez. The network will launch the comedy block in November, after quiz show College Bowl, starring former NFL star Payton Manning, in the slot for early fall alongside the start of the football season. The Blacklist, which was a tentpole on Friday nights for NBC, is not returning until mid-season.
As expected, the Quantum Leap reboot starring Raymond Lee lands on Mondays, getting the lead-in from hit show The Voice. La Brea, which enjoyed strong launch behind The Voice on Tuesday last fall, is returning as this time slot's incumbent following the end of This Is Us after six seasons, which will leave a hole in NBC's lineup as the acclaimed family show has been broadcast TV's highest-rated drama series.
NBC is keeping the bulk of its schedule intact, with Tuesday, Wednesday, Thursday and Sunday largely unchanged next fall, including One Chicago Wednesday, Law & Order Thursday and Sunday Night Football.
Of course, NBCU also leaned into its streaming product Peacock. This is an expected trend for many of the other networks this week, but NBCU believes it has one of strongest, if not the strongest, platforms out there in the market today. With linear television having limited prime-time hours, leveraging ad-supported streaming platforms can extend their offering. This represents a new opportunity for brands to reach consumers and for major media companies to monetize them.
The rise of AVOD offers a whole new and expansive playground that's packed with serious players, and NBCUniversal is seeking to capture the momentum of viewing behaviour evolution by offering something it says is blurring the lines between content and commercials, stating the ultimate goal is to make the ad experience as enjoyable as the content experience itself.
To that end, it unveiled new ad units that blend brand creative with advanced metrics testing and eye-tracking. Picture-in-Picture Expanded Storytelling brings interactive content experiences to programming through branded digital environments. The Shop Drop uses commerce-enabled activations. An AR Portal pairs the metaverse with NBCU's IP and talent. These are all exciting new offerings that will hopefully provide the opportunity for brands to break though the noise and engage with consumers as their media consumption and interaction changes.
Jeremy Johnston is investment director at PHD Canada
Fox
Fox came out of the gate not with headline shows or stars but with a pledge to advertisers: "our business is built around your business."
Planting its flag firmly in the camp of ad-supported content (no subscribers needed), Fox stressed its commitment to helping advertisers connect to a diverse audience through world-class content and a suite of customization tools to reach and connect with any audience, whether targeting through Fox Next or developing custom integration with Fox Studio.
Fox's on-demand ad-supported streaming service Tubi reflects the network's democratic approach to content. The service offers a large library of content (40,000 plus pieces) that goes deep on sports (every World Cup match available right after the game airs on linear), BIPOC and family content. In addition, the service is developing over 100 pieces of original content in the next year, using data to inform the stories they tell and offering advertisers the opportunity to connect with passionate viewers.
Highlighting a lineup of diverse programming across Fox Sports, Fox News and Fox Entertainment, the network touts a focus on a passionate multicultural audience of people united by hard work, values and a love of family and their country. Not surprisingly, sports led the presentation, as the network has rights for two of the next three Super Bowls, the blockbuster Michigan v. Ohio State game, the MLB All-Star Game and the 2022 FIFA World Cup, just to name a few. Fox Sports also confirmed that Tom Brady would join the Fox NFL team as soon as he retires from his un-retirement.
With a stable of top unscripted shows like The Masked Singer, Lego Masters and Next Level Chef back on the roster, Fox and Gordon Ramsay announced a new franchise, Food Stars. Ramsay searches for the next exciting and innovative food and drink entrepreneurs in the new show and backs the winner with $250,000 of his own capital.
Fox is adding to its drama lineup, which currently includes The Cleaning Lady and 9-1-1: Lonestar, with three formidable additions. From Howard Gordon (Homeland, 24) comes Accused, a crime anthology based on the BBC hit. Also joining the line-up is Alert, a drama about the LAPD missing person department from Jamie Foxx and John Eisendrath (showrunner of The Blacklist). The diamond in the crown (or, more fittingly, the cowboy hat) is Monarch, a Texas-sized, multi- generational country music drama starring heavy hitters Susan Sarandon and Trace Adkins.
Doubling down on Fox's legacy of ground-breaking animation and comedy, the network announced two new series Krapopolis from creator Dan Harmon (Rick and Morty, Community) and Welcome to Grimsburg, starring Emmy winner Jon Hamm (Mad Men).
With their 100% ad supported content and platforms, Fox believes by advertising with them, you are not only going to reach their diverse audiences, but you are going to connect with them.
Leanne Burnett-Wood is president of Magna Canada