BMO extends Toronto FC sponsorship for 10 years
Part of the bank's investment will be giving girls and women greater access to soccer through the team's Kickstart program.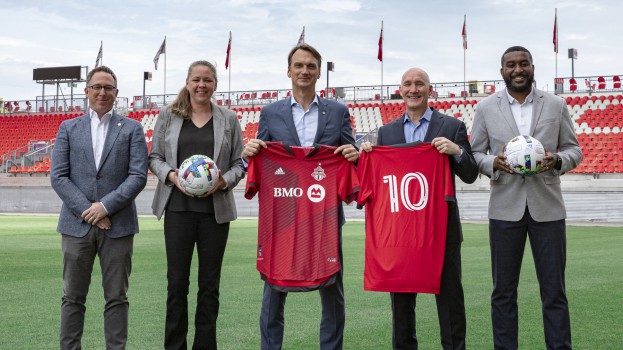 The Bank of Montreal will be a focal point of Toronto FC games for at least another 10 years as the bank extended it partnership with the MLSE team for another 10 years.
The BMO brand will continue to be featured on the team's kit and as the naming sponsor of its home stadium, BMO Field.
BMO will also continue to invest in KickStart, an MLSE Foundation program with Toronto Public Housing that introduces youth to the game of soccer.
Making soccer accessible to youth has been a cornerstone of both BMO's sponsorship of the three Canadian MLS teams and its work with grassroots soccer programs. A key priority of BMO's TFC sponsorship, the bank says, will be promoting equity in the sport and developing more avenues for women and girls to learn, play and coach.
To that end, a portion of BMO's investment in Kickstart will be delivered specifically to self-identified girls and will feature women leaders in sport.
"This renewed partnership with Toronto FC demonstrates the strength of our commitment to the franchise and to increasing gender equity in soccer and beyond," says Cameron Fowler, chief strategy and operations officer at BMO Financial Group. "Our purpose is to 'Boldly Grow the Good' in business and life and our commitment to an inclusive society drives us to partner with leading organizations like MLSE to create and expand programs that tackle barriers to inclusion."
BMO has been a TFC sponsor since the team's first season in 2005, and has held naming rights for its home stadium since it opened in 2007. Naming rights for the field – which will also play host to games in the 2026 FIFA World Cup – were last extended in 2016.