Spotted! Kelseys entices motorists with dipping billboards
The outside-the-billboard concept is also the chain's first restaurant-wide OOH effort.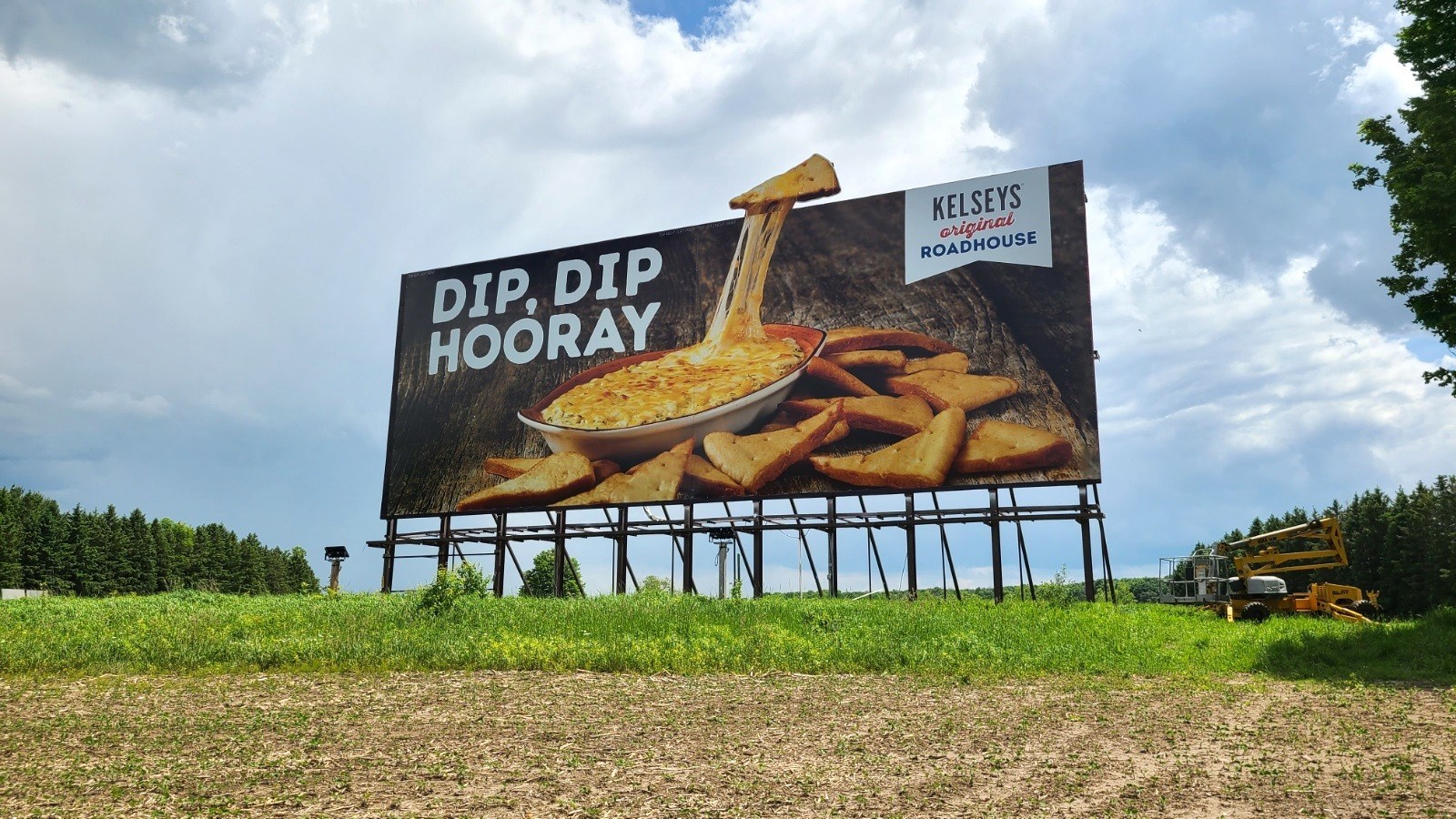 Kelseys is using its first big out-of-home campaign to continue driving home its "road trip" positioning and promote one of its most enduring menu items.
The "Dip Dip Hooray" campaign features the restaurant's Four Cheese Spinach Dip, with ads featuring a piece of bread pulling the dip off the edge of the billboard. The billboards are located on popular summer road-trip routes and in proximity to 67 Kelseys locations. The billboards target regions like Toronto, Barrie, Hamilton, London, Mississauga, Oshawa, Ottawa, Peterborough, Moncton and St. Johns.
While there have been billboards promoting individual Kelseys locations in the past – think of the signs pointing out a restaurant is at the next exit – this is the first restaurant-wide OOH campaign the chain has conducted. Shannon Lawler, director of marketing for Kelseys Original Roadhouse, says the brand focused on OOH as a part of its marketing strategy this year with the goal of connecting with guests, versus just communicating with them.
She tells MiC that along with building brand equity through a new brand-focused TV campaign – "Take a Trip Down the Block" – the out-of-home campaign was meant to be disruptive, "breaking through the clutter and grabbing the attention of our guests."
It's also the first time it's solely leaning into its Four Cheese Dip with a campaign, Lawler explains. "Our Four Cheese Spinach Dip is one item that has become synonymous with the brand for much of our forty-year history," she says, adding that it's a menu item that is a favorite among guests and social followers.
Addition to being coupled with a Kelseys equity TV spot, there are also digital ads, influencer activations, and a direct mailer. This campaign is amplified through a free Four Cheese Spinach Dip offer on Kelseys.ca and the opportunity to win free Spinach Dip for a year in a social media content. Overall, it is a $900,000 media investment aimed to reach 80 million impressions.
The campaign was created by Toronto-based Ostrich Studios, with the agency-production hybrid managing all creative. Genuine Media executed the media buy, managing all the billboard and digital ad buys.