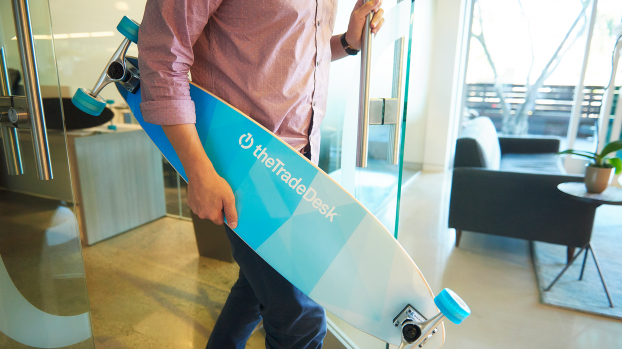 Reach. Measurement. Innovation. These may be all the latest buzzwords concerning advertising on the open internet, but they're also pillars of The Trade Desk's business practice and mindset.
As data-collecting cookies are expected to imminently go the way of the dinosaur and connected TV (CTV) and digital out-of-home (DOOH) continue to grow rapidly, Ventura, California-headquartered media buying platform The Trade Desk wants to keep the advertising business transparent and objective.
This is especially important given the 2021 research study it commissioned with market researchers YouGov, which revealed that nearly 80 percent of Canadians want to improve their understanding of personal data collection as it relates to internet browsing.
"The Trade Desk mission is to make the open internet a better place, and that's no different for Canada," says Jordan Smart, director of business development at The Trade Desk.
"The objectivity, transparency, and independence that we bring allows for control for advertisers as well as consumers. Whether it be Canada or other markets, that's what we're setting out to do.
"Ultimately, as we start to see greater adoption of The Trade Desk platform and more brands start to come on board with the main themes and pillars of our business, we'll then focus on becoming that preferred demand-side platform in this market."
The Trade Desk is planning to do that with its Unified ID 2.0 (UID2) solution.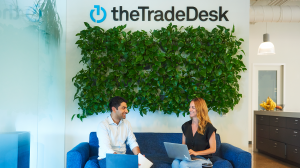 "We typically partner with agencies, brands, and other tech companies that have a need to access the open internet," Smart explains. "But our solution can allow buyers to find their key audiences across the open internet and channels like video display, connected TV, audio, and digital out-of-home in a data-driven way, where they can also measure ad effectiveness."
Smart says UID2 is an initiative that allows for cookie replacement and upgrade and "aims to bring more transparency, choice, and control to the consumer.
"It's interoperable with many other industry solutions. Marketers can maximize its usage and not have to overcommit to one solution or another. It is meant to be adopted by as many players as possible so we can have a fabric of identity across the open internet."
Built from hashed and encrypted email addresses, UID2 further decreases reliance on the third-party cookie while remaining privacy conscious. Building on the work of leading industry organizations, UID2 leverages collaboration from across the ecosystem to develop an open-source ID framework.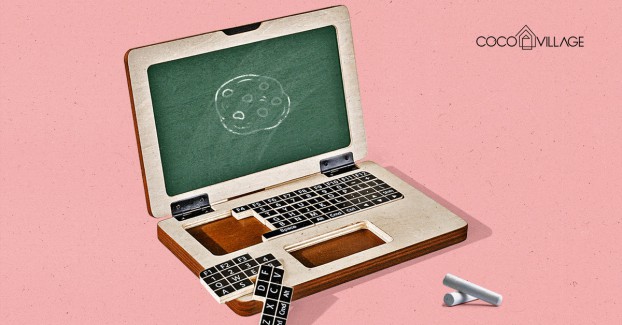 And it's already seen some success: The Trade Desk says high-end children's furniture, décor, apparel, and toy company Coco Village is enjoying a 1000% return on ad spend following the implementation of UID2.
As agencies choose from over 500 billion digital ad opportunities daily, Smart says part of The Trade Desk's self-service appeal is the fact that the platform only operates on the buy side.
"We don't own any inventory sources or websites," he says. "Because we connect to the open internet, we bring that objective approach to media buying. We only represent brands and advertisers trying to buy media, and we're able to maintain that objectivity as they're choosing which impressions to buy across different sites."
Smart says The Trade Desk can also navigate around the walled-garden approach of competitors, helping to reach one billion more people globally with greater precision.
"Brands are trying to remove silos and have a clearer picture of who their audience is across their digital day. Sometimes, the walled-off properties don't allow for the connection of those dots. Our open and independent platform allows for better storytelling by connecting as many dots as possible."
Then there's the booming DOOH market to consider as the industry continues to recoup following the pandemic. "The benefit to advertisers in accessing programmatic digital out-of-home is the flexibility it provides to be able to 'turn on and off' – something we have learned is of such importance over the past couple of years," says Smart.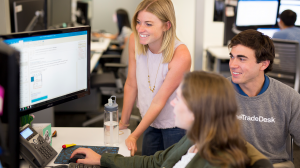 With a knack for finding innovative solutions that help solve the open internet's future challenges, and with UID2 as part of its arsenal, The Trade Desk is working toward fulfilling its mission while delivering value.
"We can bring to the table a measurement offering with things like brand lift and conversion lift, working to help clients understand unique reach and overall viewability," says Smart. "We're able to measure the success in many different ways and tie it all together to tell a complete story that goes beyond just that one focal point for a brand."
With offices across North America, Europe, and Asia-Pacific, The Trade Desk offers a self-serve, cloud-based platform that helps buyers create, manage, and optimize digital campaigns across ad formats and devices. Integrations with major data, inventory, and publisher partners ensure maximum reach and decisioning capabilities, and enterprise APIs enable custom development on top of the platform. Visit thetradedesk.com for more information.