The Weather Network expands ad ops with new TV app
Currently available to Shaw subscribers, the app currently offers direct video and custom content for a hyper-local audience.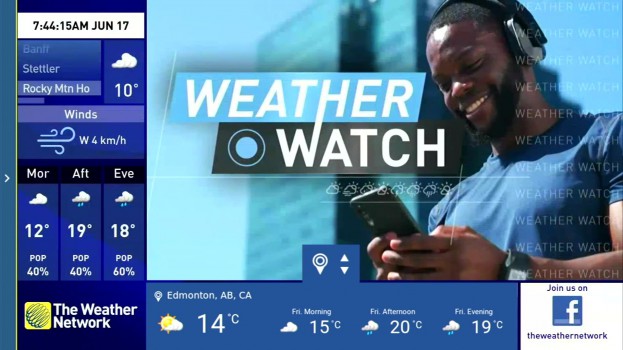 A new TV app from The Weather Network now provides 500,000 Shaw TV subscribers on-demand access to hyper-local weather information – and gives advertisers some new opportunities to reach them.
The Xfinity App on Shaw offers in-depth hyper-local forecasts based on postal code, personalized weather experiences for up to 10 cities, original on-demand content, a photo gallery with entries from around the world and hyper-local weather forecasts.
For advertisers, it currently offers pre-roll video inventory through a direct buy, as well as the ability to sponsor and host a playlist inside the video gallery.
"Working with our sponsorship team, our clients have an opportunity to create a custom co-produced content series to promote their brand and product on our Xfinity app," explains Hashim Mikael, manager of global TV apps and FAST Channels at The Weather Network. The custom content lives within the video gallery as a standalone playlist, along with other content series hosted within the app.
The network is also looking toward adding programmatic capabilities to the Xfinity app in the fall or winter of 2022. Mikael says this will give advertisers better visibility, measurability and give The Weather Network the ability to make a better user experience by serving more relevant ads.
Mikael adds that when ads are served on the Xfinity app, it provides advertisers with the ability to offer a level of locality on the big screen, similar to what a consumer might experience with the network's mobile applications.
"Ultimately, the way Canadians are consuming their weather information on the big screen is changing, with more desire for personalized, hyper-relevant content," he says. "And with recent technical changes to modern cable networks making it difficult to distribute custom forecast signals to every community, the app provides the solution to give hyper-local information to every community, resulting in better business outcomes for advertisers, and better viewer experience for consumers."
The platform's hyper-local capabilities can add significant value to the network's TV advertisers through its ability to feedback insights and measure engagement; it will also provide an opportunity to supplement larger awareness campaigns with local, community-focused storytelling and generate deeper audience engagement in priority markets.
Beginning Tuesday, Shaw TV customers can say "The Weather Network" using their voice remote to access the app and all of its features. The app will roll out to other TV providers throughout 2022.