Broadsign adds header bidding to DOOH platform
The company's Reach platform now accepts and manages bids from multiple SSPs.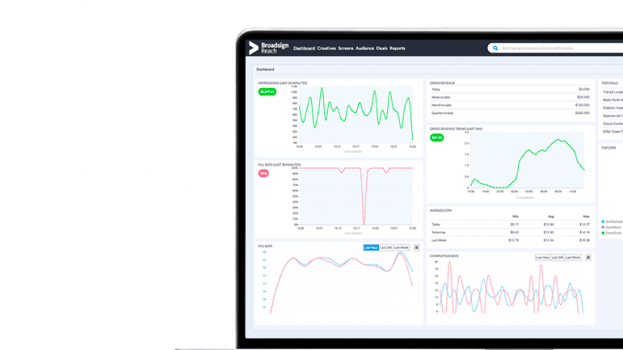 Broadsign has released a new feature for its programmatic OOH platform to help media owners manage multiple bids.
The Broadsign Reach Header Bidder enables DOOH media owners to consolidate and manage programmatic bids from multiple third-party supply-side-platforms (SSPs). Rather than reserving a one-to-one slot for each SSP partner, the bidder enables a one-to-many approach that allows media owners to simplify ad operations to maximize yield value and increase fill rates regardless of the SSP handling the transaction.
Broadsign Reach Header Bidder provides an alternative, streamlined approach, combining demand from multiple SSPs into one slot in the ad loop and choosing the winning bid to play based on Broadsign's fair play auction logic. Native integration with Broadsign Control, the company's content management system, also translates to a smoother ad viewing experience for audiences, with media owner access to features like gapless playback, screen synchronization, preemptible campaigns, and pre-caching for faster ad loading and optimization.
Despite being a standard in other digital platforms, header bidding – in which media owners can take bids from multiple SSPs to get a greater yield for their inventory and give advertisers greater transparency – is relatively new to the DOOH space. Hivestack was among the first to offer unified bidding last fall, later joining Prebid.org to help develop further open source technology and bidding developments in OOH.