The Amazing Race Canada stays at the front of the pack: Numeris
The show brought in nearly 1.6 million viewers for CTV.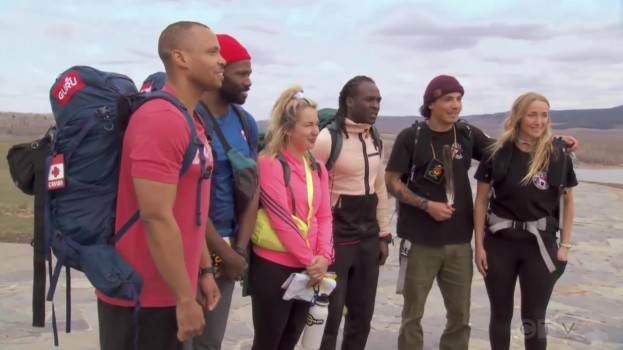 The Amazing Race Canada is , according to Numeris data for the week of July 11 to 17.
The show brought in just under 1.6 million viewers nationally, and was the top-rated show in Toronto/Hamilton, Calgary and Edmonton. America's Got Talent – which runs against The Amazing Race Canada for at least part of its two-hour run in most markets – was the second-highest rated show, and tops in Montreal and Vancouver/Victoria.
In Quebec, TVA's Un zoo pas comme les autres was the top-rated French broadcast for yet another week. It was followed by Radio-Canada's L'épicerie.
National
1. The Amazing Race Canada on CTV Tuesday at 9 p.m.: 1.589 million
2. America's Got Talent on Citytv Tuesday at 8 p.m.: 1.043 million
3. Big Brother on Global Sunday at 8 p.m.: 989,000
4. Big Brother on Global Thursday at 9 p.m.: 901,000
5. Masterchef on CTV Wednesday at 8 p.m.: 881,000
Quebec (Francophone)
1. Un zoo pas comme les autres on TVA Monday at 7:30 p.m.: 797,000
2. L'épicerie on SRC Wednesday at 7:30 p.m.: 673,000
3. Escouade 99 on TVA Tuesday at 7:30 p.m.: 610,000
4. La belle tournée on TVA Monday at 8 p.m.: 579,000
5. La recrue on TVA Monday at 9 p.m.: 568,000
Toronto/Hamilton
1. The Amazing Race Canada on CTV Tuesday at 9 p.m.: 282,000
2. America's Got Talent on Citytv Tuesday at 8 p.m.: 244,000
3. Masterchef on CTV Wednesday at 8 p.m.: 184,000
4. Big Brother on Global Sunday at 8 p.m.: 171,000
5. Celebrity Family Feud on Citytv Sunday at 8 p.m.: 156,000
Montreal (Anglophone)
1. America's Got Talent on Citytv Tuesday at 8 p.m.: 39,000
2. Masterchef on CTV Wednesday at 8 p.m.: 35,000
3. The Amazing Race Canada on CTV Tuesday at 9 p.m.: 30,000
4. Celebrity Family Feud on Citytv Sunday at 8 p.m.: 28,000
5. Law & Order: Special Victims Unit on Citytv Thursday at 9 p.m.: 25,000
Calgary
1. The Amazing Race Canada on CTV Tuesday at 9 p.m.: 55,000
2. Global National on Global Sunday at 5:30 p.m.:
2. Big Brother on Global Wednesday at 9 p.m.: 47,000
4. Departure on Global Wednesday at 10 p.m.: 41,000
5. Alone on History Thursday at 10 p.m.: 36,000
Edmonton
1. The Amazing Race Canada on CTV Tuesday at 9 p.m.: 75,000
2. Global National on Global Saturday at 5:30 p.m.: 59,000
3. Global National on Global Sunday at 5:30 p.m.: 55,000
3. America's Got Talent on Citytv Tuesday at 9 p.m.: 55,000
5. Global News Morning on Global Saturday at 7 a.m.: 53,000
Vancouver/Victoria
1. America's Got Talent on Citytv Tuesday at 8 p.m.: 161,000
2. The Amazing Race Canada on CTV Tuesday at 9 p.m.: 130,000
3. Departure on Global Wednesday at 9 p.m.: 129,000
4. 60 Minutes on Global Sunday at 7 p.m.: 105,000
5. Alone on History Thursday at 10 p.m.: 99,000