Spotted! Bonterra's art installation for a better planet
Kruger's more eco-conscious brand turns its tagline into a habitat for plants and pollinators.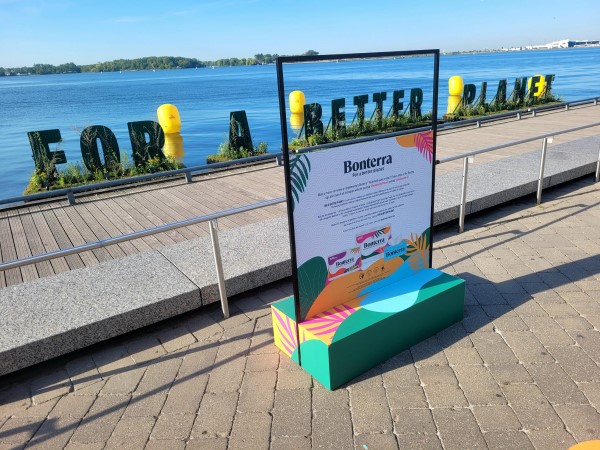 Bonterra has a new out-of-home ad that is pulling triple duty: in addition to promoting Kruger's recently launched brand, it is also an art installation and a wildlife habitat.
The activation, floating on the water near the concert stage at Toronto's Harbourfront Centre, spells out Bonterra's tagline "For a Better Planet." But Kruger also worked with gardeners and nurseries to surround the letters with plants like milkweed, echinacea and aster, plants that help pollinators native to Ontario thrive.
A nearby sign not only explains what is going on with the installation, but a blank space at the top frames up the installation and – depending on your perspective – different lakeside views and environments the brand says it is trying to protect. It also encourages passersby to take photos of the installation and spread its message on social media.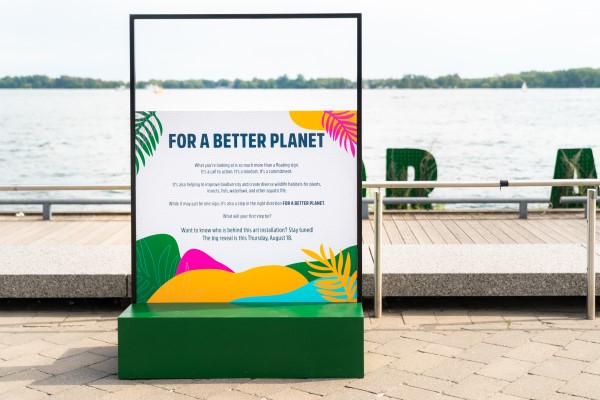 Bonterra is manufactured using 100% recycled paper with Forest Stewardship Council Chain of Custody certification, wrapped in plastic-free packaging, and produced with carbon-neutral manufacturing in Canada.
The idea for the installation came from Kruger's PR agency North Strategic, which worked with MASSIVart to create it. Wavemaker is providing media support on the broader campaign, where Broken Heart Love Affair handles top of line creative.
The installation is running until September 6.