Amex works with Pinterest to help people plan their best weekend
The platform's Pin Extension format helped the brand target personalized messaging around card membership.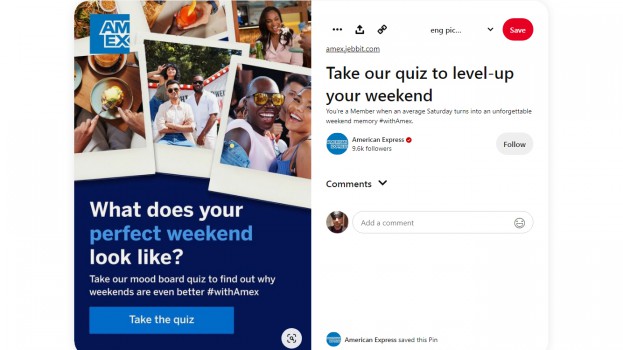 Amex made its first Pinterest Pin Extension to catch Canadians when they are planning their weekend and offer inspiration that can trigger financial services decision making.
Pin Extensions appear in the form of a regular "pin" on the social platform, but take users directly to an interactive experience, driving them to a product or service from an advertiser, often in a more personalized way.
Amex's Pin Extension takes users to a quiz that presents them with a series of image suggestions for things they might put on a Pinterest board or what might make up their ideal weekend. Through the answers, the quiz discovers whether they're more interested in things like cuisine, concerts or travel, taking them to a personalized page that shows how any of those experiences can be elevated through the benefits that Amex membership provides.
The focus of the campaign is on how membership with Amex goes beyond a transaction and provides the difference between good and "epic" experiences. It also showcases the totality of membership with Amex, while also bringing to life tangible examples of the advantages of being a member.
Planning and execution responsibilities were led by UM and Reprise.
While Pinterest is best known for audiences looking for inspiration on things like food, fashion and decor, according to the platform's internal Canadian search data, over 80% of users are on Pinterest for inspiration during their financial services purchase journey. In addition, eight out of 10 weekly users are open to seeing financial services content on Pinterest when planning a life event. There has also been an increase in searches for restaurant inspiration (80%), summer nights out (8%) and summer festivals (12%), with six in 10 pinners engaging with food and drink pins monthly.
In the spring, Scotiabank took advantage of that behaviour when it launched its own Pin Extension campaign.