Samsung relaunches its FAST channel with eye towards premium content
A new look and interface for Samsung TV Plus comes alongside plans to majorly bulk up its content offering.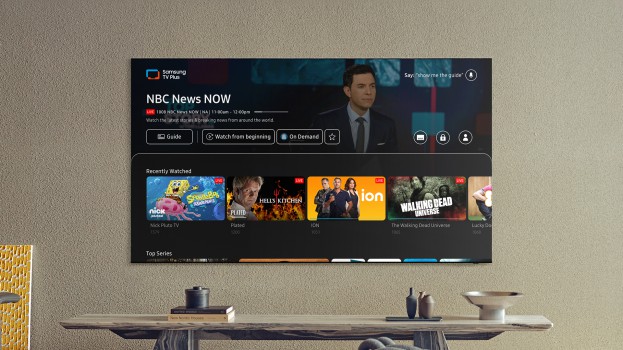 Samsung has relaunched its free ad-supported video streaming platform Samsung TV Plus across 24 countries and 465 million Samsung TV and mobile devices.
The rebranding comes with a new look and user experience, led by UK-based brand agency Dixon Baxi. But it is based around a bulked-up offering, including exclusive content and an expanded VOD library. It's part of Samsung making its FAST channel, available on all smart TVs and Galaxy mobile devices made since 2016, a more competitive pay TV alternative.
In addition to strengthening its partnerships with A+E Networks, The E.W. Scripps Company and BBC Studios, the platform enables fans to now watch crime dramas like Law & Order: Special Victims Unit, NCIS and Chicago Fire, as well as a larger news lineup from international and local sources in each market. Samsung also plans to double its VOD library in 2023 with expanded partnerships with studios such as Lionsgate and Vice Media.
Samsung TV Plus launched in 2015 as one of the first FAST services by a device manufacturer. It has over 1,600 channels globally, and over 50 owned and operated channels spanning news, sports, and entertainment.