How Tims and Philly plan to reach morning commuters
The media plan supporting a team-up between the brands is built on intercepting office workers as they start the day.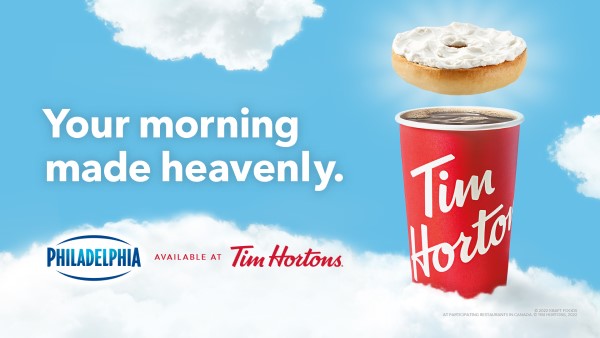 Philadelphia Cream Cheese is hoping to give Canadians skipping breakfast a wake-up call, reminding them to pick up a bagel at Tim Hortons as they make their way to the office through a robust, targeted media campaign.
On Monday, it was announced that Philly would be the exclusive cream cheese at Tim Hortons restaurants across Canada.
A campaign launching this month will feature Philly "spokesangel" Humberley Gonzalez in creative building on the brand's recent campaigns focused on getting consumers to re-discover the joy of cream cheese on a morning bagel.
Keenan White, senior brand manager for Philadelphia Cream Cheese at Kraft Heinz Canada, says the hero spot will feature a bit of a misdirect, with Gonzalez initially appearing to be in "heaven" setting, "until we cut wide and see she's at a Tim Hortons in a robe and slippers [and] she's clearly just rolled out of bed."
According to White, the campaign is based on the insight that people are returning to pre-pandemic habits as they return to offices, and are skipping breakfast to catch more sleep. The brand saw a "natural opportunity" to insert itself into the conversation and provide a solution by owning the bagel and breakfast occasion with Tim Hortons, home of the country's best-selling bagels (which is itself in the midst of renewed efforts to grow its share in breakfast).
But beyond the partnership, the brand is doing that through an extensive media mix focused on intercepting Canadians as they prepare to get their days started.
Contextually relevant OOH will be placed on busy commuting locations, including in-station transit ads and targeted TSAs in close proximity to Tim Hortons locations, as well as high-impact superboards alongside major roadways across Canadian.
The campaign also features several media partnership, such as with Waze to serve ads to Canadians as they travel on their morning commute routes, or with Spotify to create sponsored morning commute playlists. A partnership with The Weather Network will use in-app companion banners, interstitial and pre-roll videos as users get the day's weather outlook.
There will also be high impact placements on Facebook, Instagram and Twitter.
"While this campaign won't involve paid content creators, we know it will resonate with so many Canadians who are passionate about their favourite cream cheese, and who can relate to the idea that post-pandemic mornings have changed with people now commuting back to work and school," White says.
The campaign was developed by Kraft Heinz's AORs, with Rethink leading creative, Carat leading media and Middle Child leading public relations.