Staples' video series takes second year of Raptors sponsorship to the next level
The Cribs-inspired "#OfficeViews" comes with a content and paid promo.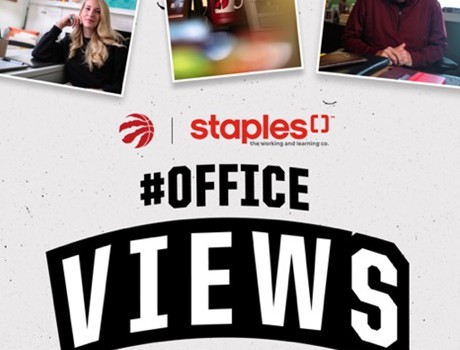 Staples Canada and the Toronto Raptors have launched a video series that begins the second year of their partnership with a look at the offices of people who help run the team behind the scenes.
Inspired by the likes of MTV Cribs, "#OfficeViews" offers a unique view into the workspaces of some of the Raptors' off-court team members including TV analyst Jack Armstrong, director of basketball operations and culture Shelby Weaver, and head coach Nick Nurse.
The three, one-minute episodes will air on Facebook and IGTV. The series was co-created by Staples and MLSE.
Dave Mazzone, VP of marketing at Staples Canada, tells MiC that the episodes will feature words of wisdom each personality holds dear, be it Armstrong's motto of "work smart, not hard," Weaver's tip to always have a burner pen and Nurse's advice to choose to be "an energy giver or energy taker."
The campaign also boasts an #OfficeViews contest, available on the Raptors app from Aug. 1 until Aug. 30. The contest will award three $1,200 prizes to help winners create their ideal home office. The contest was promoted with a paid media buy managed by MLSE, as well as social assets voiced over by Armstrong while on the show's set.
Staples Canada began its three-year Raptors partnership in July 2021 with a series of activities to help get Canadians excited for the upcoming school year, featuring a Spotlight Virtual Event with Raptors center Chris Boucher and a national back-to-school contest. Staples Canada also had a presence at Raptors home games, and an ongoing Spotlight Speaker Series featuring team management and players.