Spotted! Just For Laughs stands up in the metaverse
The comedy festival will be airing several specials in Meta's VR world.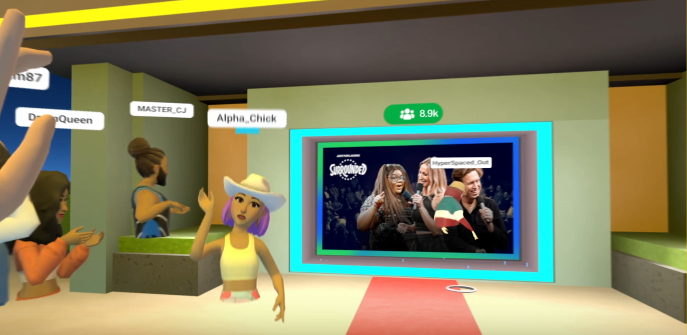 Just For Laughs has made expansion a priority in recent years, bringing its comedy festival to more cities and venues, outside of its home base of Montreal.
Now, its taking that expansion into VR.
Filmed at the Just For Laughs Montreal festival in July, Surrounded is a show concept in which the comic is surrounded by their audience and has no material prepared, instead taking inspiration from interactions with the crowd. It features performances from Nicole Byer, Nikki Glaser, Pete Holmes, Fortune Feimster, Moshe Kasher, Natasha Leggero and Moses Storm.
This year's Surrounded special will debut in Horizon Worlds, Meta's interactive VR world, on Sept. 9. A venue within Horizon will be set up, where users with an Oculus headset that have previously RSVP'd to the event can drop in to watch the show, while also interacting and chatting with other comedy fans.
Marina Di Pancrazio, chief content revenue officer for Just For Laugh, says the partnership with Meta aligns with the company's passion for comedy productions "in any format that allows all of our broad audience base to engage."
For those without a headset, the special will also be streamed on Facebook and Instagram through the comedians' accounts, Just For Laughs and Messenger's "Watch Together" feature. The special will also be available through replays in Horizon and Oculus TV.
Meta has also partnered with Just For Laughs on its annual "New Face" showcase of up-and-coming comedians. Beginning on Oct. 4, performances from this year's showcase will also be shown in Horizon every week as part of a five-part series.