Nextdoor sponsors Toronto FC
The partnership will be activated with events around Toronto and with signage in and around BMO Field.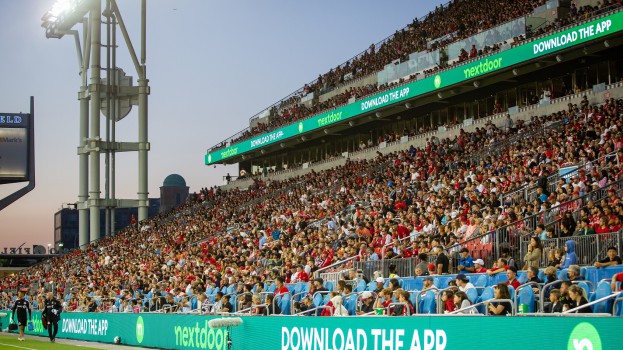 Neighbourhood social networking app Nextdoor has entered into an exclusive multi-year partnership with Toronto FC. The sponsorship will feature community and in-venue activations at BMO Field, as well as OOH advertising around the stadium on billboards owned by MLSE.
All of the advertising will have a neighborhood theme. Billboards and in-game screens will feature Nextdoor's "Neighbour of the Match" feature that will recognize extraordinary GTA neighbors and their "neighborly" actions.
Fans can enter to win or nominate someone from their neighborhood by visiting the Toronto FC app. The winners will be showcased at each game just before kickoff.
Nextdoor will also partner with Toronto FC to bring local activations to GTA neighborhoods, including community events to engage neighbors at the local level.
"Nextdoor, like soccer, is growing rapidly across Canada," says Christopher Doyle, managing director of Nextdoor Canada. "Since their first year in the league, Toronto FC has brought neighbors together, standing for all neighbors and neighborhoods, and so have we."
"Soccer and community go hand-in-hand, which makes Nextdoor the perfect partner to help Toronto FC engage local soccer fans," said Jordan Vader, SVP global partnerships, MLSE.