Magazine readership steady: PMB
The measurement co's 2011 fall report shows Reader's Digest Canada is still the most-read mag in the country.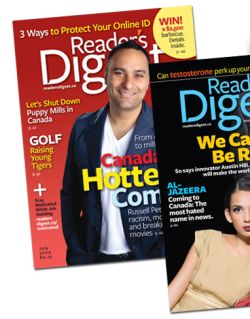 The fall edition of the biannual Topline Readership PMB report shows readership across the 61 English titles measured is steady at an average of one million readers per publication. Readers per copy dipped slightly, coming in at 4.93, versus 5.1 in the spring report. Time spent reading magazines stayed flat at 41.9 minutes.
The top magazine, according to total readership across Canada, remains Reader's Digest Canada with 5.6 million readers. Canada Living stayed in the #2 spot, with 3.8 million readers, Chatelaine jumped one to #3, with 3.2 million readers, What's Cooking is at #4 with 3.2 million readers and Canadian Geographic landed at #5 with 3.2 million readers.
The top five French titles remain unchanged at the top, with Qu'est-ce que mijot bringing in 1.1 million readers. Touring jumps up one to land in the #2 spot, with 1.079 million readers, Coup du Pouce is #3 with 1.073 million readers, Châtelaine is #4 with 986,000 readers and L'actualite is #5 with 907,000 readers.
The PMB 2011 Fall topline report measured 22,678 consumers and 115 publications.