Gillette Drafted gets social for season four
The P&G brand is adding in layers of audience engagement and a Drafted Boot Camp on the new season of the show, which airs on The Score.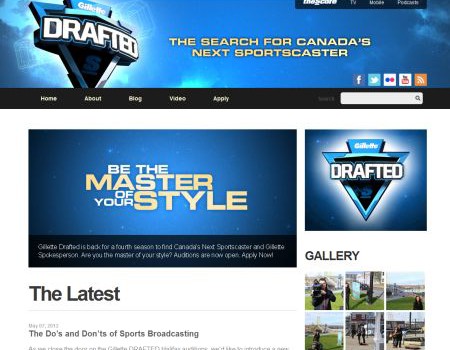 Gillette Drafted is building social media into the mix of the show's fourth season, which premieres this fall on The Score.
The show tours Canada looking for someone who will win a one-year contract as a Score Media sportscaster and Gillette spokesperson. A combination of viewer votes and a panel of judges gets the numbers down to the final six. An added twist for this season sees consumers choosing the winner during a live finale episode, Chris Lamb, brand manager, Gillette Canada tells MiC.
"Last year was the second full season with the 10 episode format so we really got a lot of consumer feedback where a lot of our viewers really wanted to be more involved with the show, they wanted to be more involved with the finalists, the eliminations and the challenges," says Lamb. "We thought it was about time that we really brought the viewer to the forefront and take action on suggestions that they have had. To sum it up, we took the learning's of last years and changed it to a format that they wanted."
Also added for the fourth season is a Drafted Boot Camp, where the top 25 finalists will be put through a series of challenges, including a test of their sports knowledge. The results will be posted on The Score and online at Drafted.ca, Thescore.com and The Score's Facebook page.
Lamb says the show allows the P&G brand to reach targeted consumers under the age of 30 in a way its traditional media buy might not always successfully do.
"Consumers are inundated with a lot of push marketing, like commercials, print ads and online banners," he says. "It is very easy for consumers to tune a lot of that out. We wanted to find new ways of connecting with consumers, to hear about and understand our products in a more organic way."