Reader's Digest launches Taste of Home Canada
The new magazine, which is an extension of a US brand, will hit newsstands on June 3.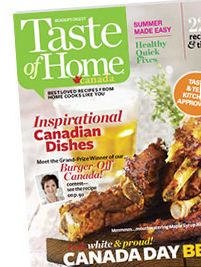 Reader's Digest Magazines Canada is launching Taste of Home Canada, a food and entertaining magazine that will feature content entirely comprised of user-generated recipes tested by the brand.
Philippe Cloutier, GM, Reader's Digest Association, Canada, tells MiC the brand will start with a newsstand and subscription circulation of 75,000, the same number of copies that are currently distributed of the US version in Canada. He adds the magazine will also be available through online magazine provider Zinio, with plans for a tablet edition down the road.
He says the Canadian version, which targets women aged 25 to 65 with an emphasis on the 35-to-55 segment, is being launched north of the border following conversations with advertising clients who see a gap in the market.
"We are seeing brands that want to reach women who are looking for quick and easy recipes for their families, and not necessarily in a high aspirational matter," says Cloutier. "We identified a gap for Canadian content in this area."
The 120-page magazine will be split into four sections (Celebrate, Cook Smart, Contest and Close to Home) and published quarterly, with the first issue hitting the stands on June 3, and will be available in English and French. English readers can submit their recipes to Tasteofhomecanada.com or Selection.ca/tasteofhomecanada in French.