Ryerson targets commuters
The university's G. Raymond Chang School of Continuing Education has launched a campaign targeting potential new students on the go.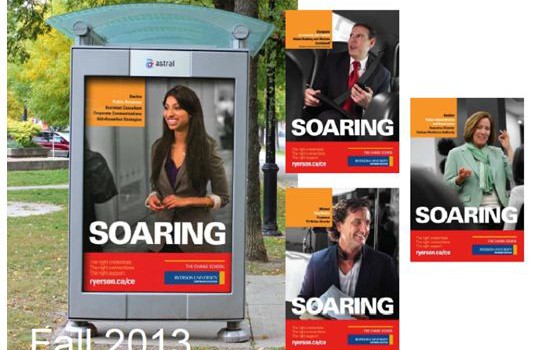 Ryerson University's G. Raymond Chang School of Continuing Education is taking advantage of Toronto's summertime traffic and subway delays, targeting potential students on the go with a new transit and radio campaign in market until the new term starts in September.
With media by Oakville, ON.-based Walker Media Group and creative from Ryan Edwards Communications, the campaign centres on the tagline "Soaring" and features past students of the school who are now successful in their chosen field, Marie Bountrogianni, interm Dean at The Chang School, tells MiC.
"Last year's tagline was "Soar with the Chang School" and this year's is a bit of a continuation of that with examples of students who have taken certificates or part-time degrees with us and are now soaring," she says.
Transit ads are placed around Toronto, with radio spots airing on CHFI, CKIS, CIDC, CKFG, CKFM and CHUM. The target for the campaign is adults aged 25 to 44, adds Bountrogianni.
Click here to listen to the radio spot.