Travel and Style takes flight
Aimed at aesthetically inclined females, the new quarterly aims to fill a void the co-founders saw for digital travel magazines in the market.
There's a new Canadian digital magazine in market aimed at aesthetically inclined jet-setting women called Travel and Style.
Launched by friends and magazine industry staffers Stephanie Gray and Jennifer Weatherhead Harrington, the quarterly digital title started as travel blog Pretty Chic Travel, evolving into Travel and Style in late 2013 with the magazine's first issue going live this month.
"It started as a blog initially and then launched the website," she says. "We thought the travel market was missing a really solid digital magazine focused on women who love to travel and also appreciate the aesthetic side of travel as well so it seemed like a natural thing for us to do."
Harrington tells MiC the magazine will be distributed to its 400 current subscribers, with a target audience of women between 25- and 45-years-old with a household income of $100,000 or higher. Gray adds the team hopes to grow its sub numbers to 2,000 in six months and 5,000 by next year. The magazine's website currently gets between five and six thousand unique visitors a month, with that number steadily going up thanks to social media sharing and word-of-mouth through 2014, adds Harrington.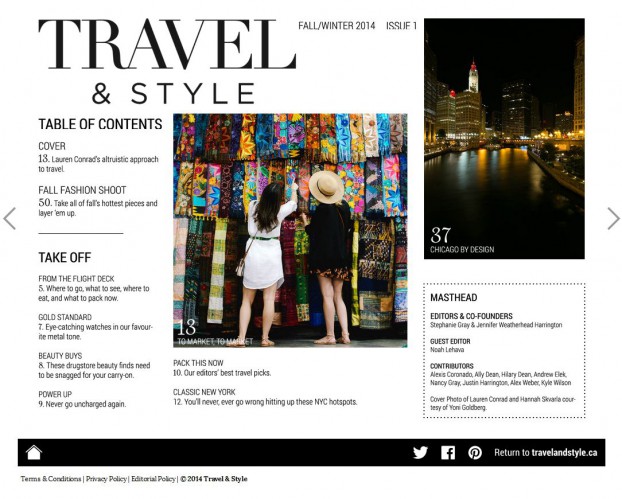 Advertising opportunities on the site and in the magazine include banner ads as well as more in-depth sponsorship and content packages, says Harrington, adding that the duo are open to other opportunities for brands to be involved on the site as well.