New magazine celebrates luxurious side of East Coast living
Maritime Edit was born from a gap in the market seen by magazine industry veterans James and Pamela Mullinger when they moved from London.
When James Mullinger and his wife Pamela moved to Atlantic Canada from London, they did so for a better quality of life but found their lifestyle wasn't reflected in the local media.
So as long-time writers and editors, rather than complain about it, they decided to launch a new title to fill that gap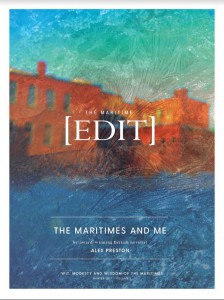 and cover the luxurious side of Maritime living – both for readers and for advertisers.
Enter Maritime Edit, a quarterly magazine set to launch its first issue this summer. Pamela Mullinger is publisher of the magazine, and James is its editor-in-chief. Pamela previously launched Monocle in the U.K. and was the publishing director there before the couple moved back to her Canadian homeland. James worked at GQ magazine in the U.K. for 15 years.
James said the aim of the magazine is to celebrate the "discreet luxury of living in Atlantic Canada." It is designed to look like a coffee table photography book, with high-style shoots like a recent one in Madrid using Maritime fashion labels. Content in the magazine will cover topics including wellness, area restaurants, recipes from local chefs and profiles of prominent Maritime business leaders. Contributors to the first issue include award-winning novelist Alex Preston, Vogue photographers Joshua Lawrence and Simon Emmett and Vanity Fair photographer Gavin Bond.
Maritime Edit targets residents and visitors to Atlantic Canada that have high disposable incomes and travel frequently. Each issue of the magazine will have a distribution of 70,000. The magazine will be sent free of charge to Maritime residents within the top 3% of household incomes. Remaining copies will be sold with a newsstand price of $9.99 at Indigo and Wholefood locations across Canada, as well as local Maritime retailers.
A single page ad in the magazine is listed at $8,000 on the Maritime Edit rate card. The first issue of the magazine has a page count of 84.
Promotions for the launch of the magazine will be a mix of events to meet readers at Indigo locations and digital media pushes. In addition to being a writer and editor, James is also an award-winning comedian, who had a CBC documentary made about his journey from London to New Brunswick, last year.