Shaw Media loads up on specialty
The broadcaster is adding 35 new shows to its 18 specialty channels this fall.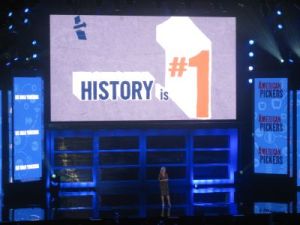 Shaw Media has unveiled its fall 2011 specialty channel lineup, introducing 35 news shows to its 18 specialty channels.
Barbara Williams, SVP content, Shaw Media told the audience at yesterday's upfronts that the biggest success story for the network's specialty channels is History Television, with The Kennedys and Ice Road Truckers pulling in over a million viewers.
World premieres for History Television this fall include What's in a Name?, a series looking at the history of names and where they originate. The channel's second world premiere is Canadian Made, a series which explores inventions, methods and ideas made right here north of the 49th. Network premieres include Brad Meltzer's Decoded, a show which investigates the history of symbols and codes and The Pacific, the Steven Spielberg and Tom Hanks executive produced program which tracks the lives of three US Marines.
Returning to History Television this fall are new seasons of Ancient Aliens, William Shatner's Weird or What?, Pawn Stars, American Pickers, Ice Pilots NWT, Ice Road Truckers, Swamp People, Ax Men and Trashopolis.
Williams was quick to note the integrated advertising opportunities available with the Food Network's launch of Recipe to Riches. The competitive reality series sees Canadians battle for the opportunity to have their recipe chosen as the next President's Choice product.
Also new on the Food Network this fall is the North American premiere of Jamie's Meals in Minutes, the next series from Jamie Oliver which shows how to create good food fast. Making their Canadian premieres are Sugar High, which features Ace of Cakes star Duff Goldman touring bakeries across the US; Tough Cookies goes behind the scenes at Crazy Susan's Cookie Company in New Jersey; Crave features host Troy Johnson travelling and discovering the origins of food around the world; and Heat Seekers sees two chefs seeking out spicy foods across the US, and questioning why they are so fun to eat.
Returning shows on Food Network this fall include Top Chef, Iron Chef America, The Next Iron Chef, Dinner Party Wars, Chopped, Restaurant Impossible, Cupcake Wars, The Great Food Truck Race, The Best Thing I Ever Ate, Eat St., Diners, Drive-ins and Dives, and Chuck's Day Off.
New on HGTV this fall is the world premiere of Consumed, where host Jill Pollack forces families drowning in possessions to survive for 30 days with only the bare essentials. Also making its world premiere is Urban Suburban, where brother and sister realtors Phil DuMoulin and Sarah Daniels compete to find families their dream homes.
Making their Canadian premieres this fall on HGTV are: House Hunters on Vacation, a House Hunters spinoff which whisks viewers away to a house of their choosing for a week; HGTV'D surprises viewers with jaw-dropping transformations in their own homes; Dina's Party features Real Housewives of New Jersey star Dina Manzo throwing parties for clients in New York and New Jersey; and Room Crashers features host Todd Davis going across the US looking for unsuspecting homeowners who need help with their home improvement projects.
Returning for new seasons on HGTV this fall are Holmes Inspection, Sarah's House and Income Property.
Slice sees the world premiere of Cake Walk: Wedding Cake Edition, a cake making competition hosted by Caroline Rhea; Intervention Canada, a Canadian edition of the addicting dramatic reality show; 'Till Debt Do Us Part: Baby Edition, featuring host Gail Vaz-Oxlade navigating the financial challenges of parenthood; Shotgun Reno, which follows people going through home renovations at the same time as life altering events like the birth of a baby or a wedding; and Risky Business, featuring former Dragon Brett Wilson guiding investors through different financial opportunities.
The channel is also picking up the Canadian premiere of Mob Wives, a docu-soap series following the lives of four women.
Returning series on Slice include Project Runway, Real Housewives of Atlanta, Real Housewives of New Jersey, Real Housewives of New York City, Party Mamas and Princess.
For those who can't get enough of the Real Housewives, Shaw Media also announced it has Real Housewives Vancouver in the works.