Record CBC ratings for Stanley Cup Final opener
CBC's Hockey Night in Canada drew its biggest NHL game audience ever with Wednesday night's game.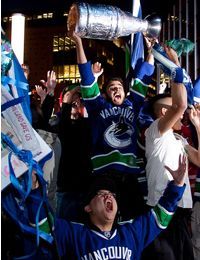 BBM Canada measured 5.6 million total viewers on Wednesday night for the Vancouver Canucks and Boston Bruins match-up, according to its overnight ratings.
The national audience peaked at 7.8 million, just as the Canucks' Raffi Torres scored the game-winning goal.
You just know TSN and Rogers Sportsnet took note of those numbers, as parents Bell Media and Rogers Media (respectively) mull possible runs at the Hockey Night in Canada property when the CBC's TV contract with the NHL comes up for renewal.
Wednesday night's audience crushed the previous record of 4.96 million viewers in 1994, for Game 7 of the Stanley Cup Final between the Canucks and the New York Rangers.
This year's Stanley Cup Final opener was also the second most-watched sports telecast on the CBC, behind the 2002 Olympic Men's hockey final between Canada and the US in Salt Lake City that snagged 8.96 million viewers.
Of course, that pales against the 16.6 million Canadians that last year watched the gold-medal Olympic men's hockey game on CTV between Team Canada and Team U.S., with the peak audience estimated at 22 million people.
South of the border, NBC also secured its best opening game audience for a Stanley Cup final in 12 years.
From Playback Daily