Astral OOH launches Signature Column
Bids are being accepted to appear on the new street furniture, which will launch in 120 locations later next month.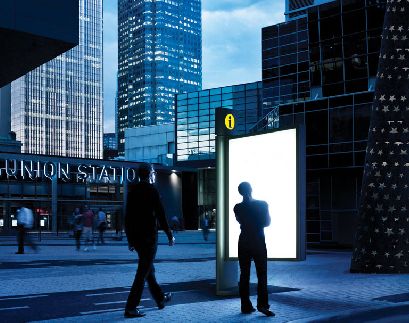 Astral OOH recently revealed the latest piece of its street furniture line in Toronto, hosting a group of industry members at Cirque du Soleil Totem in Toronto. Its LED-lit Signature Column will appear in 120 locations around the city, selected for their ability to reach the most of both vehicular and street traffic, Eric Menzies, director of sales, street furniture, Astral OOH, tells MiC.
"The number one difference with this piece is location, which is everything for OOH," he says. "These don't need to be at a transit stop, or a transit route. They have been chosen [based on] the best location for street and pedestrian traffic."
The 4′ x 6′, standard PSA-sized faces feature the Toronto "Info to Go" system and were designed by Kramer Designs to include as little a frame as possible, says Menzies. "Info to Go" features a map of the area around the sign, with landmarks of interest and public transit routes. The Signature Columns will be featured in areas of the financial, fashion and entertainment districts that transit routes can't reach.
Bids are being accepted for the launch advertising client, which will be announced later this week.