Vampires, rock stars and practical jokers join Teletoon's winter sked
My Babysitter's a Vampire hits the youth channel's lineup this January, alongside two new Canadian series and the debut of The Haunting Hour.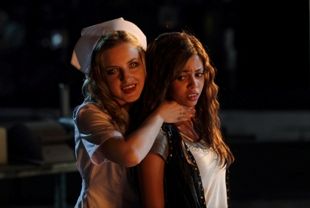 Teletoon Canada has announced its mid-season lineup, featuring the premiere of My Babysitter's a Vampire on Thursday, Jan. 5 at 8 p.m., and three other new series.
The 13-episode Babysitter is a Teletoon original production, inspired by the Bruce McDonald-directed movie of the same name from last fall. The half-hour comedy has already been greenlit for a second season.
Babysitter follows Ethan Morgan, who, while at first mortified at being assigned a babysitter by his parents, is thrown into a world of supernatural battles against zombies, demons and werewolves, because his babysitter turns out to be half-vampire.
Also new to the lineup is Mudpit (13 x 30 mins), premiering Jan. 5 at 7:30 p.m.
Mudpit takes place in a gaming café and is centered on four teens who pursue their hopes of becoming rock stars both in real life and in the virtual world.
Animated action series Detentionaire (14 x 30 mins) premieres Jan. 5 at 6:30 p.m. Teletoon aired a five-ep "sneak peek" in September to drum up interest for the Nelvana-produced show's debut.
Lee Ping is the Detentionaire. At the beginning of what's supposed to be the best year of his life, Lee is blamed for a practical joke that lands him in detention for the rest of the year. The episodes follow his quest to find the true perpetrator and clear his name.
Debuting Jan. 2 at 8:30 p.m. is R.L. Stine's The Haunting Hour (22 x 30 mins), based on short stories by the acclaimed horror author (think: Goosebumps for a new generation).
The Haunting Hour originally aired in the U.S. on The Hub, which has renewed the series for a second season.
Returning to Teletoon is the fourth season of Fresh TV's animated reality series Total Drama: Revenge of the Island (13 x 30 mins), on Jan. 5 at 7 p.m.
Babysitter, Mudpit and Detentionaire have been added to a new Thursday night programming block called Can't Miss Thursdays!, with encore episodes airing on Sunday nights in the same timeslots.
The Haunting Hour will air with new episodes Monday to Wednesday at 8:30 p.m.
Advertising opportunities around the winter season include sponsoring Detentionaire's one minute recaps. Other opportunities include becoming the exclusive sponsor for Thursday night programming and live integration within the channel's new animation/live-action programs, such as Detentionaire.
From Playback Daily