The Firm, Bomb Girls topline Global's winter sked
Canadian shows shine on the Shaw Media channel's mid-season schedule.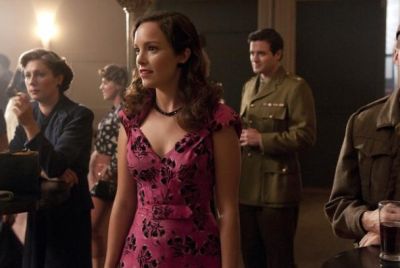 Global is leading its winter schedule with the debut of two highly anticipated new Canadian shows, the new six-part series Bomb Girls and The Firm.
Premiering Wednesday, Jan. 4 at 8 p.m. ET/PT, Bomb Girls follows the lives of Canadian women working in munitions factories during WWII.
The premiere of Bomb Girls (pictured) will be followed that week by the premiere of The Firm on Sunday, Jan. 8 at 9 p.m. ET/PT, in simulcast on Global and NBC. Subsequent episodes of the series will air on Thursdays at 10 p.m. ET/PT.
In additional Canadian (talent) news, Global will also be premiering Kiefer Sutherland's new series, which marks the Canadian actor's return to network television following the end of 24 two years ago. Touch, which follows the relationship between a father and his mute 11-year-old son, will debut with a "sneak preview" on Wednesday, Jan 25 at 9 p.m. and then return on Monday, March 19 for a full-series run in the 9 p.m. ET/PT timeslot.
Also premiering in January is new Bones spinoff The Finder. The procedural builds on an episode of Bones and features a character who returns from Iraq with a special ability to help others. The series debuts Thursday, Jan. 12 at 9 p.m. ET/PT.
Comedy-wise, Global is adding a new animated show to its Sunday night block, Napoleon Dynamite, building on the film of the same name. The series slots in at 8:30 p.m. ET/PT starting Sunday, Jan. 15. And new to Wednesday is Are You There, Chelsea?, premiering Jan. 18 at 9 p.m. ET/PT.
Advertising and sponsorship opportunities around the new season are available, according to a Shaw Media spokesperson.
The returning series' premiere sked is as follows, all times ET/PT:
Hawaii Five-0 – Monday, Jan. 2 – 10 p.m.
NCIS – Tuesday, January 3 – 8 p.m.
NCIS: LA – Tuesday, Jan. 3 – 9 p.m.
Parenthood – Tuesday, Jan. 3 – 10 p.m.
The Simpsons, The Cleveland Show, American Dad & Family Guy – Sunday, Jan. 8 (all timeslots the same)
The Office – Thursday, Jan. 12 – 8 p.m.
The Good Wife – Friday, Jan. 6 – 10pm  (returning to its Sunday timeslot the following week)
Glee – Tuesday, Jan. 17 – 8 p.m.
House – Monday, Jan. 23 – 8 p.m.
Celebrity Apprentice – Saturday, Feb. 11 – 8 p.m.
Survivor Season 24 – Wednesday, Feb. 15 – 8 p.m.
From Playback Daily