Astral OOH launches new tool
The Visual Optimization tool allows clients to identify the impact of their ads within the first seconds of eye-contact.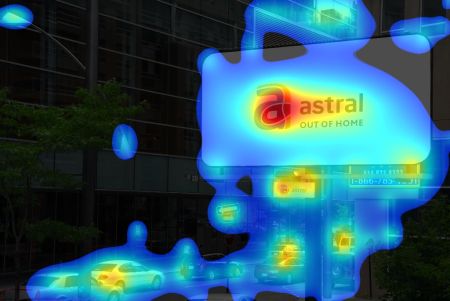 Astral OOH has added a new tool to its kit, with the launch of the Visual Optimization service.
The tool will be part of Astral OOH's Campaign Optimization service, Mark, and uses 3M software to scan client ads before they are in market. The software tests the features of the ad to let clients know how it will be viewed by the human eye in the first seconds of being seen, based on aspects including colours, edges and human faces.
The software, which launched last week and is in use with several clients, uses data from eye-tracking studies, Philippe Rene, senior director, research, Astral OOH, tells MiC. Results of the scan are provided immediately through a heat map (pictured) which identifies the aspects of the image most likely to be picked up in the first seconds. Changes can then be made to the ad by clients to make it more likely to be noticed quickly.
"We are always telling clients that the visual aspect of OOH is so important, but until now we could only provide context in a subjective manner,"  says Rene. "We could say things like, 'the ads need to convey a single message, be legible and use contrasting colours in a small fashion.' But there was no way to show them the impact the visual advertising could have. This is where the service fills the missing link."