#Changethemodel: TV
Lauren Richards on why social media isn't TV ads' saviour.
This Forum column (originally published in strategy's Fall TV magazine) raises issues that need addressing, and is the kick-off for a MiC series talking to stakeholders about the changes needed across the Canadian media landscape.
Spring is renewal time for the networks, stations and their content offerings. Out with the old, in with the new.
The pomp and circumstance begins in New York with the upfronts and the "new front" jockeying for position in this key selling season.
What the heck is the "new front," you ask? Well, it's a consortium of some of the other major media players – most notably Google, Microsoft and Hulu – vying for media spend commitments at the same time, given that precious advertising dollars are being locked up in this long-standing selling strategy of the U.S. networks.
The Canadian upfront presentations also saw each major player touting their wares, claiming victories, taking stabs at their competitors and explaining their key position in this consolidated multi-media universe.
On both sides of the border there's been a lot of talk about social media, clearly building upon the power of television, illustrating that it's alive and well given the extent of social conversation about TV content. After all, people are tweeting, chatting and texting about its stars, its content.
At the NBC presentation it was bravely admitted that one-third of content is being time-shifted and the currency of evaluating television needs to change. On this point I couldn't agree more.
I do find it surprising that there has been very little talk about improving the effectiveness of our television evaluation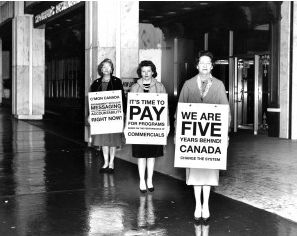 even though we are years behind the U.S. It was five years ago that the American market moved to commercial ratings versus program ratings, after much pressure from the advertising, and most notably, client community. Five years ago!
We've since learned that different programs were holding audiences to different degrees, as were different stations, especially significant in the cable channel universe where the stations are programmed to a specific genre.
They learned what programs were PVR'd more often than others, which were watched within three days of taping and which were watched later on. More importantly, not only did they learn all of this because it became the evaluation currency, they started paying for programs based on the performance of the commercials in a program, not for the program itself.
All advertisers are struggling with how much to spend and how to make this spend more effective at building sales. So isn't it odd that the Canadian market has had such a lackadaisical attitude to audience differences of sometimes up to 20%? The average primetime difference in most studies has resulted in a 5 to 7% shortfall, but from program to program the differences are up to 20% and often 10%.
Moreover, it has often been reported that the U.S. market changed the currency seamlessly, with very little difficulty through the transition. But that was five years ago and this isn't enough anymore.
Engagement with our messaging has to become the driver for accountability. Yes, it's exciting that viewers are engaging in social media conversation about television content. Yes, I believe this conversation promotes further interest in the program and/or station at the centre of this conversation. And it's very exciting that viewers can have options to be their own TV programmer in terms of where, when and on what device they want to watch the content.
But is the fact that television programming is often at the centre of social media dialogue helping the engagement with brand messaging? I think not.
If people are being encouraged to engage further with a show, it is often happening during the viewing of the show itself. Which usually means during the commercial breaks and it's another distraction from the messaging that is funding that content. And I didn't hear any of the television executives talk about how they are going to protect or grow commercial viewing engagement.
But since it's not even measured, and if they don't have pressure to change, why would they?
In between upfronts, communications consultant Lauren Richards, former CEO of Starcom MediaVest Group, can be reached at lauren.richards.tor@gmail.com.