AOL Canada partners with Shop.ca
The media co will have advertising for the online shopping destination on its site to further its reach of young affluent professionals.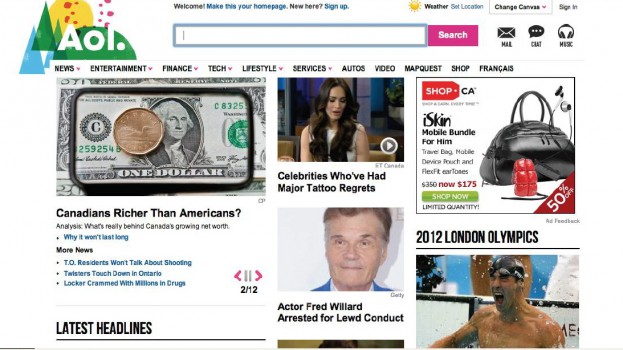 Shop.ca advertising and shopping content will now be seen on AOL Canada's digital properties, as part of a partnership announced early this week.
A campaign for the shopping site will appear on AOL.ca and Huffingtonpost.ca, and will include content integration as well as extended reach through the Advertising.com network of sites, Laura Pearce, director of marketing, AOL Canada, tells MiC.
The two brands occupy different but overlapping spaces in the Canadian marketplace, with AOL providing consumers with entertainment and information and Shop.ca focusing on utility, says Pearce. AOL Canada saw an opportunity to provide more functional use to their users and in return, is enabling Shop.ca to drive brand awareness through AOL's media properties, she adds.
AOL's target audience sits in the high-income bracket with an age demographic of 18 to 49 years, says Pearce, noting that its users tend to visit at a high frequency and for a relatively long time, and that Shop.ca shares the same affluent target demo.
"A big part of what we do is provide engaging original content to our users, and that's compelling for an e-commerce brand that's also looking to generate conversations about e-commerce and the products people are buying," she says.
As a part of the advertising campaign, Shop.ca will have homepage takeovers on the AOL sites which will include sponsored content in the main story sections, covering topics that Pearce says people are passionate about, "such as how to get the best deal for your dollar."
The takeovers will be carried out over a period of six months lapping over the holiday season, which is a key period for Shop.ca, she adds.
Shop.ca will also have a direct link to its site from the AOL.ca menu bar and will feature the online shopping site as its exclusive shopping partner, acting as a virtual endorsement for Shop.ca products, says Pearce, something that AOL has not done before.
The campaign will be rounded out by Walletpop.ca daily deals, which will be "Brought to you by" Shop.ca, and there will also be standard big box, skyscraper and leader board placements across AOL.ca and the Advertising.com network.