W Network gets personal with Property Brothers BroCam
Capitalizing on the series' strong social media following and viewership, the webisodes will feature the brothers between filming and behind the scenes.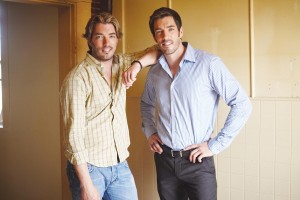 As part of a strategy to push the Property Brothers brand, W Network is launching "Property Brothers BroCam," original web content that will be posted simultaneously on YouTube, Facebook and WNetwork.com.
The BroCam will feature Property Brothers hosts Drew and Jonathan Scott going behind-the-scenes and between filming in one- to two-minute webisodes.
Each gives viewers "an all-access, unedited" look at their lives, and complement content in the Property Brothers series.
"Our main goal for BroCam is to offer fans more of the brothers. They have a strong online following and for these viewers, we wanted to offer exclusive online content to give a richer experience for the series and the hosts," Shelley Findlay, Corus Entertainment's VP networks and marketing, women's television, tells MiC.
The webisodes will be posted on the W Network's YouTube channel, WNetwork.com and the channel's Facebook page, with the videos tagged at the end to drive viewers back to the series.
The first video will launch on Tuesday, Oct. 23 at 9 p.m. following a live Facebook chat with the brothers that will take place during that night's Property Brothers episode, with future videos being posted every Tuesday at 9 p.m. following the series' episodes.
Findlay adds that the channel is planning live chats with other W Network talent, including Jillian Harris and Todd Talbot from Love It or List It Vancouver.
The live Facebook chat will be promoted through on-air TV spots on W Network, through Property Brothers social networks and an online ad campaign.
Findlay adds that the channel will also feature customized IDs on-air, with the brothers promoting and driving viewers to Facebook discussions.
To further encourage viewers to participate in online conversations, integrated on-air Twitter hashtags will also be featured throughout Property Brothers episodes.
The BroCam will be supported by an online ad buy through Google search.
Property Brothers airs on W Network on Tuesdays at 8 p.m., and new series Buying and Selling with the Property Brothers will premiere in January.
From Playback Daily