Delivering the right ad to the right consumer at the right time is a concept that has been the goal of advertisers since the very first commercial communication – drawings on clay in 3000BC Sumatra. Real-Time Bidding (RTB) has made that concept a reality for brands advertising in online and mobile media today.
Canada was a late adopter of RTB but since it hit this market in a meaningful way about two years ago, advertisers have increasingly been drawn to the many benefits the technology offers. Andrew Saunders, vp advertising sales for the Globe Media Group, has seen RTB in Canada gain traction, particularly over the past 12 months, and credits increased content options fueled by growing supply side involvement as one of the reasons why.
"As the larger media ownership structures have built their own trading desks, the profile and momentum is clearly building in the Canadian market. We at The Globe have been in the market for the past year offering RTB and programmatic buying to our clients.
"Based on estimates we hear, RTB seems to be about a $50 million business in Canada today. I would imagine it is going to continue to grow and expect double digit growth for the foreseeable future," says Saunders. "That $50 million has primarily been driven by performance-based campaigns. There have been early adopters from the brand marketing side but RTB has mainly been an offering that marketers focused on performance can capitalize on."
Renee Hill, president and co-CEO of eyeReturn Marketing, says that along with increased supply, there has been tremendous growth in the number of advertisers willing to test the RTB waters and a significant amount of streamlining in the structure of the industry itself over the past year.
"Some companies have decided to completely become a supply side platform while others have focused on their core competencies. eyeReturn traditionally has been an ad serving platform for agencies providing advanced reporting analytics and targeting through our ad server," says Hill. "Now that we've grown into an RTB platform, we are able to utilize our existing tool set and expertise on a whole new level.
Hill adds, "Integrating a traditional ad server with a RTB platform really allows advertisers to get a better bang for their buck online because they're going to be able to track and monitor in real time a variety of key performance indicators and make split second buying decisions in order to maximize campaign results and cost effectiveness."
Any initial hesitancy about getting involved in RTB seems to be based on lack of education or understanding about what RTB can bring to the table for both the supply and demand sides of the business.
At first, publishers believed RTB was simply a way for advertisers to minimize the rates they were paying for premium inventory. Advertisers, on the other hand, were held back by their concern about brand safety, the possibility of their ads being served to fraudulent websites or to those featuring morally unacceptable content.
The industry has developed new technologies to address all those concerns.
If you haven't been involved in RTB before now, you're probably already confused by another issue that is rather daunting to newbies – understanding the countless acronyms, functions and disciplines within the RTB environment.
Fortunately the Canadian industry makes it easy for advertisers and publishers to understand RTB and find the best solution for their individual business needs.
Deciphering RTB
There are a few basic ways to use RTB. One of them is to work with a publisher rep house such as Redux Media, which is owned by TC Media.
"We like to think of ourselves as a digital publishing rep house and yield optimization firm," says Brock Bradley, vp business development, at Redux Media. "When you have the agencies and trading desks looking to buy quality inventory in an RTB setting, it's important to work with them, show them what's available and build a cohesive strategy together. Publishers need to know that having strong RTB representation today is as important as having strong agency representation, and this is one of the benefits companies like Redux bring to the table."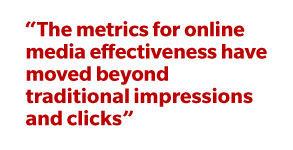 Bradley adds, "Redux acts similarly to a publisher trading desk where we optimize multiple platforms and exchanges and allocate inventory based on the best estimated clearing price. It definitely helped to have TC Media acquire us because we were then able to put all their owned and operated properties, the very premium being Elle Canada, Canadian Living, Hockey News, into an exchange and RTB environment to leverage and get more interest from the different demand side partners."
Other options include working with a trading desk, that is, an online trader plugged into a DSP or ad exchange; a private exchange, which is a virtual marketplace operated by a seller of premium online ad inventory; or a DSP. DSP stands for Demand Side Platform which is a technology and service provided by companies like TubeMogul, which more specifically is a video DSP.
Grant le Riche, managing director of TubeMogul Canada, explains, "We're the technology that most major trading desks in the world use for acquiring video, and that most agencies use. All of the big agencies have a trading desk and that's beneficial to advertisers because they use really great tools to help get the data needed for better decision making, better performance, and to provide control and transparency for their clients.
"A trading desk would need to use a couple of DSPs such as, TubeMogul for video but they would also need others like a display banner DSP plus a couple of data providers. And with those tools, they're able to make the media work harder for advertisers."
The Globe Media Group has put its efforts into building a private exchange to complement its premium direct sales efforts. In addition to its online organization, globeandmail.com, the media company has built Globe Alliance, representing iconic media brands such as the Wall Street Journal, Thomson Reuters, Forbes and Washington Post.
Saunders says, "We provide our clients access to what we feel is an ultra-premium audience in Canada. We have been able to provide efficient access to that audience via programmatic buying in our private exchange to all of our agency partners and look at this as a holistic service offer.
"With our direct sales offering, we continue to provide highly customized, high impact brand campaigns to our clients and further enhance that relationship via RTB/ programmatic buying capabilities. This simplifies our clients' ability to access our performance, non-guaranteed inventory, and extends our digital product offering to meet the evolving needs of our advertisers."
Saunders prefers programmatic to RTB because of its overall benefits. He says that first you have the efficiency of the transaction and secondly, it provides enhanced real-time dynamic targeting capability for clients who want to use data as a point of differentiation in the market.
RTB and programmatic
To clarify the terms programmatic and RTB, IAB Canada defines RTB or Real Time Bidding as "A data-driven programmatic buying model allowing advertisers or their agencies to bid on digital media (display, video, mobile, social, etc.) in real-time, at the impression level."
Programmatic uses digital platforms like ad networks and trading desks to automate planning and buying functions such as bid price and reach while also layering in behaviourial or audience data all on one platform.
Casale Media for the past 12 years has been known as a digital ad network, serving the needs of both buyers and sellers through its ad network while its programmatic division, Index, is a sell side platform (SSP) or exchange platform that serves ad sellers by facilitating the sale of ad inventory through programmatic channels.
Andrew Casale, VP strategy for Casale Media and its Index division says, "Programmatic is the overarching category that RTB lives in. RTB is very popular but it is actually only one type of buying that is enabled through the programmatic channels.
"Programmatic refers to this hyper-centralized, hyper-efficient method of buying where a single platform can access multiple suppliers – and buy in a centralized capacity. That buying can be done through RTB where there's an auction – or it can be done in other ways where there isn't an auction, it's a straight buy."
In Q4 2012 and through the first half of this year, Casale saw a significant upsurge in the number of publishers making their ad impressions accessible to Canadian buyers as well as increases in agency adoption and the emergence of agency trading desks.
"For us it's exciting to see publishers starting to commit resources to having a relationship with buyers in this hyper-efficient buying channel because it's a sign of acceptance and broader market adoption to the point where RTB cannot be ignored."
Data, measurement and targeting
The metrics for online media effectiveness have moved beyond traditional impressions and clicks. Chris Quinn, ad operations manager for Kijiji Advertising Canada, says buyers now have a greater appreciation for audience insights rather than for simple click rates.
"They want to know that the specific audience they're trying to reach is the audience they're buying impressions on or that they're getting some kind of backend performance – such as someone purchasing on their own site or signing up for a newsletter. The conversation has moved beyond, 'hey can you get me a million impressions of people looking at real estate' to 'what do you know about your audience," says Quinn.
"At Kijiji Advertising specifically, we can tell a great deal about our audience based on what they do on our site. For example, we have a top level category called Buy & Sell, under that we have a subsection called bikes, and under bikes we have a third level category, mountain bikes. That defines pretty directly and specifically where someone is looking and we can pair that with someone actually doing a keyword search for specific type of product."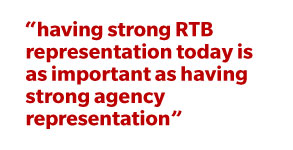 Last year Kijiji Advertising launched its audience product called Watu, a Swahili term that literally translates to 'people' in English. Watu goes beyond the natural breakdown of content on the Kijiji Advertising site to combine deep first-party insights with third-party data.
Quinn says, "We've partnered with a few third-party data providers and we can layer on first, third and second party data, which is client specific. We combine what clients know about their users with what we know about ours – and then do customized segments for them."
To illustrate the benefit, Mark Lister, Kijiji Advertising's director of sales, says in response to a recent RFP from a client looking for a specific audience segment, just taking a basic surface look at only the Kijiji Advertising database returned 385,000 unique users in the segment.
"I didn't feel that was the entirety of what we could offer," says Lister. "and by delving into our site we managed to triple that audience to nearly 1.4 million by understanding the users on our side. These are numbers that before were almost unattainable at the targeted audience level. We are able to uncover these audiences in volume now via our data – and working with client data. It certainly does offer excellent reach and targeting ability for clients."
Le Riche of TubeMogul says it's important to provide all the tools necessary for advertisers to feel comfortable about what they're buying and how they're buying, tools that give buyers full control and transparency in picking their sites and knowing which analytics work for which ad units.
"We're also building a lot of other tools for advertisers, most notably our BrandSights survey tool has been generating a lot of positive feedback from advertisers. BrandSights is the world's first targetable brand survey and it allows brand advertisers to measure a brand campaign's success by measuring things lik e brand lift, purchase intent etc. Using BrandSights, we can ask users questions based on purchase intent, awareness, and other branding metrics" says le Riche. "This tool now enables advertisers to optimize based on what matter to them, such as a user's readiness to purchase a product."
When you look at the old traditional ad network model, a campaign would run and then after the fact, the advertiser is shown all the different metrics and reporting data based on campaign performance. RTB technologies enable advertisers to view results, and optimize and tweak campaigns while they're still running, all in real-time.
Renee Hill says that her company's live databases are one of eyeReturn Marketing's key differentiators. eyeReturn is the company's ad server but it also has a DSP (Demand Side Platform) called eyeDemand and a DMP (Data Management Platform) called eyeReact.
"We are a data management platform for many advertisers. We tag their sites, and collect information so that in an instant we are able to buy media on our demand side platform based on a user's actions on the site. For example, if someone goes onto to an automotive website, they may browse the compact car section. Later, when they are on other sites, we can target them with a compact car ad," says Hill.
"The ability to do it in real time has been one of the keys to success for the RTB platform. It offers advertisers a way to leverage remnant ad space. They'll spend a little more than usual on remnant space but they get so much more as far as the people they're reaching. It allows marketing messages to be delivered in real-time based on what people are doing on the internet and it's safe for consumers because it's all anonymous, aggregate data, with no key identifiers or personal information involved."
Brand safety
There are lots of different campaigns that can be run using RTB. Buying as much inventory as possible at the best cost, can leave companies open to having their brands associated with fraudulent and questionable sites.
In addition to data and planning tools, RTB companies are working to also provide safety tools to advertisers.
eyeDemand has a blacklist of domains that are known to be are fraudulent and it is constantly monitored and updated. If an advertiser is looking at running a brand-safe campaign, it is absolutely important that it is 100% brand-safe and content-safe, eyeDemand provides whitelist domains to ensure that every single website the ad is served to is known and trusted.
TubeMogul's PageSafe technology helps protect advertisers against fake pre-roll, which is an auto-play video unit that is running in a 300 x 250 size banner, sold as pre-roll. The company recently launched a new tool to help solve another major issue within the industry – viewability. There have been cases where up to 50% of ad impressions were not viewable.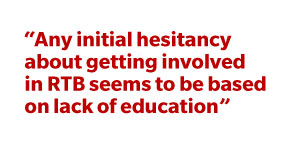 Le Riche says, "What the viewability tool does is answer the question "Is my ad actually seen?". So when advertisers are buying pre-roll video, this tool can measure whether the ad loaded and if it was it 100% in view. In addition to determining if the ad was viewable, it measures the number of pixels actually in view and whether the user flipped over to another tab or scrolled down on the page. It answers a lot of big questions for advertisers and will hopefully help alleviate some of the concern around viewability."
RTB is here to stay
"People will all argue something very different when it comes to why RTB has risen to prominence, why it's important and the value it drives," says Andrew Casale. "Efficiency gains from a performance perspective are real and strong, however I would argue that it was really designed to fix the huge time burden that executing a media plan places on the buy side. In the US marketplace, they literally had 400 vendors knocking on an agency's door to get consideration. That was impossible to manage.
Casale adds, "If you ask a media person in Canada using RTB today whether it was saving them time, they would probably say, no. However, if you ask that same person that same question a year from now it will be a different story. And the difference between those two conversations is that there is a huge amount of knowledge and experience they need to gain before they're going to reap those benefits."