TC Media launches new auto site
AutoGo.ca is a lifestyle-focused car website featuring used car listings in partnership with Wheels.ca and AutoCatch.com.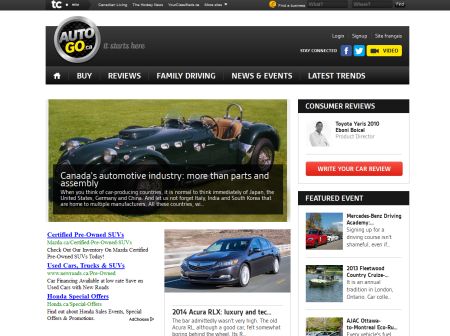 TC Media has launched a new lifestyle-focused automotive website, AutoGo.ca, which features both car-focused editorial pieces as well as a used car sales section thanks to a partnership with Metroland Media Group's AutoCatch.com and Wheels.ca.
The bilingual site features advertising options from standard IAB formats to bundled ad packages with other TC Media properties, Marc Bouchard, editor-in-chief of AutoGo.ca, tells MiC.
Bouchard says the average target age for the site is adults 25 to 45, but expands beyond that group because content can target people from first car buyers to luxury car owners.
AutoGo.ca soft launched in May and received more than 30,000 unique visits that month, says Bouchard. He says the site's TC Media network has a total reach of more than 1.1 million unique visitors with eight million page views a month.