Corner Gas gets movie reboot
The big-screen reboot of the much-loved TV series will receive a multi-tiered rollout across theatrical, TV and home entertainment.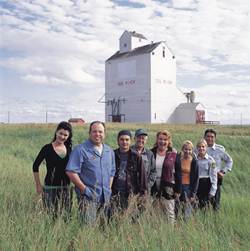 The cult comedy is coming to a multiplex, and then a living room, near you.
Corner Gas, which ran for six seasons from 2004 to 2009, is returning with a big screen revival.
Corner Gas: The Movie will start production next month with support from both traditional Canadian financiers like Bell Media and Telefilm Canada, and Kickstarter.
News of the 90-minute Corner Gas reboot came Tuesday from executive producers Brent Butt, Virginia Thompson and David Storey, with an eye to an initial Christmas 2014 market roll-out.
Corner Gas: The Movie will be headlined by creator and comic Butt, who is accompanied by returning cast members like Gabrielle Miller, Eric Peterson, Fred Ewanuick, Janet Wright, Lorne Cardinal, Tara Spencer-Nairn, and Nancy Robertson.
Additional cast members will be announced in the coming weeks for the inter-provincial coproduction between Ontario and Saskatchewan.
Butt, Andrew Carr and Andrew Wreggitt will pen the script for the movie, with Storey, a key director on the original series, helming the revival.
Production is set to begin on June 23 in Rouleau, Saskatchewan, with crews from Ontario and Saskatchewan.
This isn't the first Canadian TV cult favourite turned into a movie, after Trailer Park Boys returned as a big screen franchise, and then more recently as a digital play in Netflix territories in Canada, the US and around the world.
The producers won't need Kickstarter to fund the entire Corner Gas movie, like Veronica Mars and its original and successful appeal to hard-core fans.
Instead, original Corner Gas backers are returning with production financing, including from the Canada Media Fund.
Other financial backers include Tourism Saskatchewan, which maintains a Corner Gas souvenir store in Rouleau, and Creative Saskatchewan, a government agency now back financing local movie shoots, including recently Cinecoup's WolfCop with a $250,000 grant, after the cancellation of a refundable tax credit for the province.
Corner Gas: The Movie will also tap Ontario tax credits, and get a theatrical release, via Cineplex Entertainment and its Cineplex Front Row Centre Events program.
At the same time, producers are eyeing Kickstarter to raise $100,000 over 30 days from the Corner Gas faithful to boost the film's budget and promotion.
The release strategy via Prairie Pants Distribution will see the Corner Gas reboot open in movie theatres for two weekends.
That will be followed by an exclusive Monday-to-Saturday window on The Movie Network, then a Sunday night premiere on CTV.
The Corner Gas movie will then repeat on Comedy Network, accompanied by home entertainment, including a DVD collector's edition to be handled by Video Services Corp.
The staggered platform release aims to build buzz for Corner Gas: The Movie with event-driven promotion, to include red carpet premieres by Cineplex with a live feed featuring Butt and cast to all participating cinemas countrywide.
From Playback Daily