Cogeco introduces TiVo service
Cogeco will offer the service to Ontario subscribers, followed by a launch in Quebec in 2015.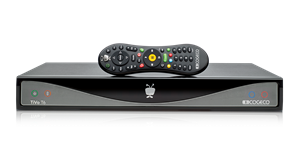 In the never-ending battle for cable-and-internet customer marketshare, Cogeco is betting the brand-power of its new DVR product will attract the attention of content-hungry Canadians.
The company is rolling out TiVo-powered service for Ontario customers who have an existing television and internet subscription, the company announced Thursday. According to an investor fact sheet provided by the company, Cocego has 808,000 video customers in Ontario and Quebec.
The sophisticated set-top box performs regular DVR functions but also acts as an interactive interface for online apps like Netflix, including offering algorithm-powered suggestions for content.
The TiVo service offered by Cogeco will also feature an iOS Cogeco TV app, where customers can search and schedule recording remotely. Users will also be able to download DVR content to their mobile devices via the Cogeco TV app. An Android version of the app is expected to be released in April 2015.
The Cogeco TiVo service will launch on Nov. 3 in Ontario. The service will be available to customers in Quebec in 2015. Cogeco plans to customize the platform's interface, recommendations algorithm and language for a Quebec audience.
From Playback Daily