These native ads are nothing to blush about
ModiFace's augmented reality ad unit let's consumers virtually try on products they're reading about.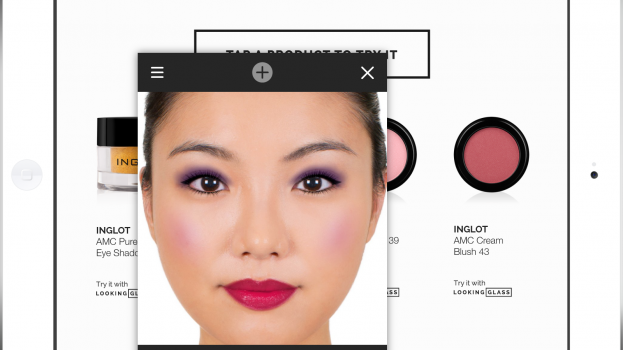 Cosmetics brands have a new tool with which to engage with consumers browsing beauty blogs and websites.
ModiFace, a Toronto-based company that has worked with the likes of Sephora to create a 3D augmented reality mirror, unveiled a new AR-powered app called Looking Glass Wednesday at the Ad-Tech conference in New York.
The app adds a virtual "trial" function to a brand or publisher's site or mobile app, with users able to upload their image (or choose a model's) and see how they look with different shades of lipstick, blush or mascara before making a purchase.
ModiFace works with beauty co's directly to add their products to its database and provides them with the HTML codes to add the platform to their brand's site and any other sites they wish.
Parham Aarabi, CEO of ModiFace, says the company encourages brands to partner with publishers and use the app like a native ad, placing it near relevant content. This makes it possible for a user to move beyond seeing an ad for a beauty product, to trying it on and essentially becoming part of the ad.
For example, a Looking Glass icon could be positioned on a site near an article about a certain type of lipstick so users could click on the ad to virtually try on the product. The ad unit adapts for mobile viewing and could be customized to link to a beauty brand's e-commerce site.
"It's an ad but at the same time it's an app," Aarabi explains. "On a mobile device, it would just be like downloading a makeup try-on application."
The company is launching with New York-based startup Slate Cosmetics on board to embed the tech on its website.
ModiFace piloted the tech on select beauty blogs, testing engagement by serving half of visitors to the sites an article about cosmetics like eye shadow or lipstick, and the other half the same article but with a Looking Glass tag. It says there was a 158% increase in consumer engagement when Looking Glass was added, with a 27% increase in overall time spent on the site.
While ModiFace is the first to introduce this technology as an ad unit, it is not the only company with virtual try-on technology. Last month at the Toronto International Film Festival, L'Oréal Paris introduced its Makeup genius augmented reality app, which allow users to view makeup looks on themselves through a live mirror camera.