How TiVo landed in Canada
Cogeco has launched an integrated campaign to support its new DVR product.
Cogeco is tapping into changing viewing habits with the launch of TiVo, the DVR platform that has long been available in the U.S., which integrates Netflix into the set-top box, has search abilities across all content, provides for multi-room viewing and offers recommendations based on viewing history.
Having scrapped plans to build its own IPTV service, the company is betting that being the first to bring the platform to Canada will establish it as a leader in the cable space. Cogeco's U.S. subsidiary Atlantic Broadband has had a good experience with TiVo, so it launched an integrated campaign to demonstrate its product is light years ahead of the competition with the tagline "Out of this world."
The campaign, with media by Neo@Ogilvy and creative by OgilvyOne, started in late October in Ontario cities where Cogeco has a presence – such as Burlington, Hamilton, Oakville, Kingston, Belleville and Trenton – with a teaser campaign. Billboards displayed the name Cogeco and a depiction of an alien spaceship beaming down an anthromorphic, blank TV along with the message "is coming." In addition there were digital mall boards and mall floor decals (see featured image).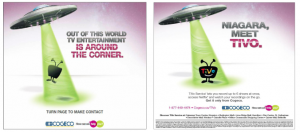 The campaign went into full launch mode on Monday, now showing the TV smiling and bearing the TiVo name. This was shown through digital mall boards, 10-second TV billboards and social media channels. In addition, the campaign includes 30- and 10-second TV and cinema spots airing in key markets in Cogeco's footprint where TV can be bought at a local level, such as CHCH in Hamilton, ON and  CKWS in Kingston, ON. A radio spot appeared in markets like Hamilton, Peterborough, St. Catherines, Windsor, Niagara Falls, Burlington and Oakville. And print ads, including false covers and inside placements, appeared in papers such as the Stoney Creek News, Niagara This Week, Windsor Star and Belleville News.
Anne Isabelle Roussy, VP of marketing and product development, says the campaign was meant to entice customers to visit Cogeco's website or visit a store to experience what the product can do.
The company also took over Go stations with door, floor and window decals, tunnel murals and posters, and  shopping centres like Burlington Mall, Quinte Mall, and Devonshire Mall with escalator wraps, door and floor decals and posters. 
On the web, the campaign includes banners, pre-roll, SEM, a promotional landing page on Cogeco.ca and Facebook ads. Three more feature TV spots are set to follow in the run-up to Christmas. The product will then be launched in Quebec in the spring of 2015.
TiVo lets users record and watch shows in any room, record up to six shows at once and store up to 150 hours of  content. Users can also view and record shows on tablets and mobile devices. To get the service, customers must be Cogeco cable and internet subscribers and need to rent the TiVo box for $20, and $7 for each additional TV. As of May the company had 808,000 TV customers.