Evolve Media's new pet project
Dogtime Media will be absorbed into the company's lifestyle arm, TotallyHer.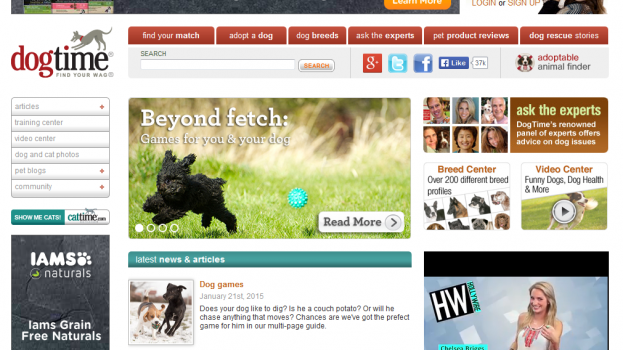 Evolve Media  is extending its reach with female readers with the acquisition of Dogtime Media, the publisher of pet sites Dogtime.com and Cattime.com.
The outright acquisition includes around 120 other pet sites in the Canadian marketplace that had a combined 2.9 million unique visitors in December, says Walder Amaya, EVP of international sales and operations at Evolve Media, a publisher with sales teams in Toronto, U.S., U.K. and Australia.
"That allows us to augment our reach overall and tap into a brand new ad segment we had not catered to before," Amaya says. "It opens the door to advertisers we have not done business with before and offers solutions to existing advertisers."
Amaya says it also fits the company's strategy of growing around niche sites covering topics people are passionate about. Dogtime Media's target audience is female 25 to 44, with more than 60% of the audience being female and 30% having a household income of over $100,000.
Dogtime Media will be absorbed into Evolve's female-focused lifestyle brand, TotallyHer, which will represent it in Canada. Current ad opportunities on Dogtime and Cattime's sites include standard display, pre-roll and post-roll video, as well as content sponsorship, Amaya says. The company aims to introduce native advertising options on the site in the coming months, he added.
Dogtime.com and Cattime.com feature pet food reviews, columns and articles related to pet ownership, as well as a "pet finder" and "find your match" service to help pair potential owners with pets for adoption. The pet finder service does not currently include Canadian cities but Amaya says that is a solution Evolve wants to add here.