Canada's History redesigns for its future
The magazine has developed a cleaner look as it celebrates its 95th anniversary.
Fresh off winning an award for its cover design, Canada's History magazine is debuting a redesign for the pages inside.
The newly redesigned issue is set to hit newsstands on March 23 and marks its first refresh of the inside pages since a name change from The Beaver in April, 2010. Melony Ward, publisher, Canada's History, says the new format is more visually appealing, playing up strong images.
"The font choices and layouts are very contemporary," she says. "It's not trendy, rather, it is elegant, clean and legible."
"Canada's History is a player in niche magazine publishing in Canada," Ward adds. "This new design package builds on that by creating an editorial and visual environment that we feel advertisers will want to be a part of."
The magazine is celebrating its 95th anniversary and recently won Gold in the small magazines category at the Canadian Cover Awards hosted by the Circulation Management Association of Canada (CMC) and Magazines Canada for its April/May 2014 issue (pictured, above). Sales for that issue, featuring a Viking on the cover, were up 80%, says Ward. Overall, sales for 2014 are forecasted to be up 21%, she says.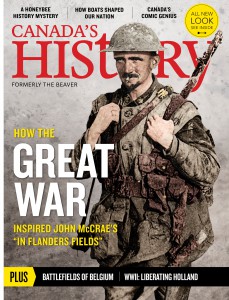 The June/July issue of the magazine will focus on the Magna Carta, the document that established key principles of modern democracy, which is leaving its home at the Durham Cathedral in England and coming to Canada for its 800th anniversary. In addition to selling space in the magazine and its website, Ward says that there will be a special edition of the publication's newsletter on the Magna Carta. The newsletter has 11,000 subscribers and, Ward says, gets seven times the readership for these special reports, such as a recent one marking 100 years since the birth of John A. Macdonald, the first prime minister of Canada.
A registered charity, paid circulation for Canada's History stands at 32,000 with a PMB-measured reach of 820,000, according to numbers provided by the publication. Its readership is split 54% male to 46% female, with the average age of its readers being 38. Its readers overindex in travelling and visiting museums. Meanwhile its website garners about one million impressions per year.