Astral OOH to pedal for BIXI
The deal includes the Montreal bike-sharing network's 420 ad faces.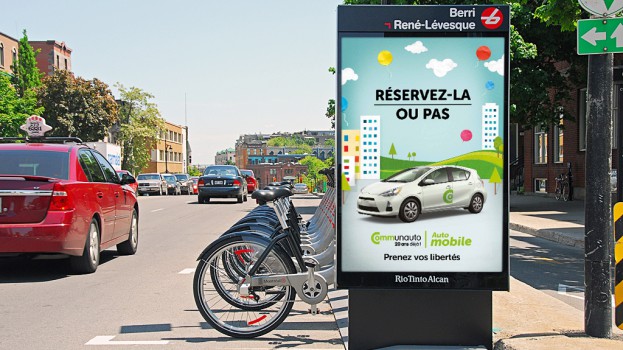 Montreal-owned self-service bike network BIXI has inked a deal with Bell Media's Astral Out of Home to manage all of the company's 420 advertising faces.
The five-year partnership will see BIXI's ad inventory shared by six advertisers per three-month term throughout the summer and fall months. Due to snow removal, BIXI stands are taken off the streets in Montreal during the winter months and re-installed in April. Advertising resumes in May. The current term starts May 4 with an undisclosed roster of advertisers.
In previous years, Astral let advertisers buy six months of inventory (early May to early November), but clients wanted more flexibility and there was a greater demand for seasonal advertising, says Eric Menzies, director of street furniture, Astral Out of Home.
Now the first period will run from May until early August, and the second from early August until early November to capture back-to-school campaigns.
There are 460 BIXI bike stands in Montreal and the attached advertising faces are all at street level. In addition to commuter hubs, the bike stations are positioned in proximity to schools and universities to serve its target demo of students and professionals aged 18-to-44. Approximately half a million bike trips are taken per month on BIXI bikes.
Astral OOH says it has no plans to implement a similar strategy in Toronto.