Guelph Mercury to cease print version
The Metroland Media title has been publishing since 1867.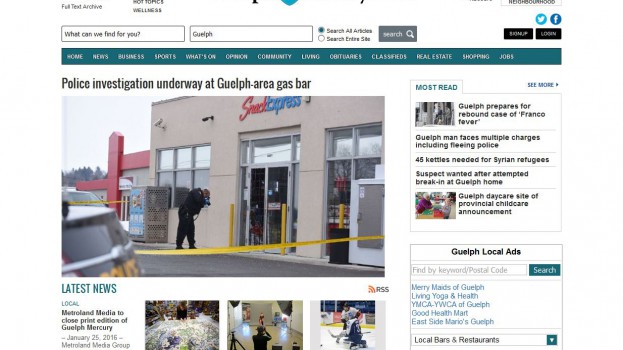 As the CRTC debates the future of local television at a hearing this week, one of the country's oldest newspapers has announced it will stop printing on Friday.
The Metroland Media-owned Guelph Mercury first started printing in 1867, the year of Canadian federation, and is one of the oldest broadsheet newspapers in Canada.
Donna Luelo, publisher of the Guelph Mercury, stated in a release that the decision was made due to declines in classified and national advertising revenue, as well as circulation. In 2012 the Mercury's home delivery was 10,503. In 2015 it was 8,382
In light of those shifts, she said that shuttering the print version was "the only viable option."
Ceasing to print the Guelph Mercury will mean the loss of 23 full-time and three part-time employees, which includes eight people in the editorial department.
The website for the Guelph Mercury will remain live, with the homepage being operated by Metroland Media's regional digital team, according to a company representative.
Metroland Media will continue to operate twice-weekly community newspaper the Guelph Tribune in the market, which reaches more than 40,000 households in Guelph and the surrounding area. It will also continue to manage the real estate-focused Guelph and District Homes and lifestyle magazine Guelph Life.
This story was updated on Jan. 26 at 9:15 a.m. to include circulation numbers and details of the plan for continuing Guelph Mercury online.