Spotted! A giant-sized celebration
Walt Disney Motion Pictures Canada is going big on promotions for The BFG, promoting the movie by pairing it with birthday celebrations for the CN Tower.
Every studio wants their title to make enormous numbers at the box office, but not every movie has actual giants in it.
So when Walt Disney Motion Pictures Canada set out to promote The BFG, it was looking to partner with a like-sized entity. And it found a timely fit with the Toronto's skyline's most visible building, tying up with the CN Tower for its 40th birthday celebration.
Throughout the last week street teams have been on site at the CN Tower with a giant card (sensing a theme here?),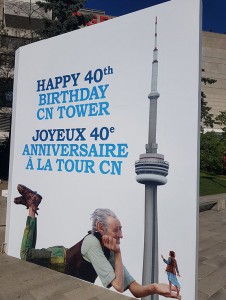 asking passersby to sign their birthday wishes.
Experiential work on the campaign was done by Toronto-based Simon Pure.
Greg Mason, VP marketing, Walt Disney Studios Motion Pictures Canada, said that in addition to focusing on the giant element, promotions for The BFG also tap into the Canadian elements of the movie. He noted that the movie was filmed in Vancouver, visual effects were done there, and five of the "giants" in the movie are Canadian. It also is being released on Canada Day.
The BFG's experiential push at the CN Tower is the culmination of a weeks-long OOH and TV campaign. Mason said that strategy is aimed at catching people just ahead of the movie opening. The target for The BFG in particular is families, he added.