Post City Magazines launches Annex edition
The Toronto media company has added an eighth neighbourhood print magazine to its roster.
Post City Magazines, which publishes free monthly magazines targeting select Toronto neighbourhoods, has launched a new print title, showing the trend of print media companies reducing frequency and circulation is not universal.
The media company has started delivering the Annex Post to homes in the Annex, a largely residential neighbourhood in on the west side of the city that borders the University of Toronto. Distribution also includes street boxes in high-traffic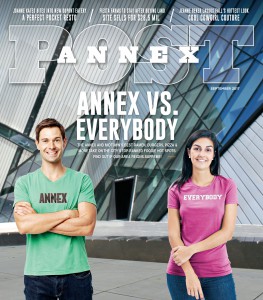 areas along the busy College and Bloor streets, as well on racks at select retail locations in the area. In all, the Annex Post will circulate 20,000 copies (bringing Post City's total circulation up to 172,000 copies a month across all its products).
With the addition of the Annex Post (the company's first new publication in about 10 years), Post City Magazines now creates eight different titles per month (other versions target North Toronto, the Village, Bayview and Midtown neighbourhoods). The debut September issue, which was delivered this week, had a total of 60 pages.
Andrew Mannsbach, associate publisher, Post City Magazines, said that changes the Annex neighbourhood has seen, with rental units being converted into single family homes at greater rates, made this an opportune time to launch a print product for the area.
"Many of these new families have grown up in neighbourhoods already served by other Post City publications and are familiar with and trust the Post City brand," he said.
Content in Post City's monthly edition includes neighbourhood news, crime and development stories, and covers new shops and restaurants in the area.
Mannsbach said a good portion of advertising in Post City's titles comes from smaller advertisers, but adds the media company also works with medium and larger sized brands, like car companies and real estate developers. He added that support from local advertisers, as well as Post City's free distribution model (which doesn't fluctuate) are both big contributing factors to the business's success.
While print remains the company's main focus, Post City is putting an increasing amount of energy and investment into growing its digital platforms, said Mannsbach. Postcity.com sees over one million page views a year. The company is in the midst of launching a hyperlocal version of its site in December, with different content and ad opportunities for each neighbourhood it covers.