That's Vancouver Pizza to you
Boston Pizza gives its Vancouver locations a temporary name change to capitalize on the Canucks Stanley Cup bid.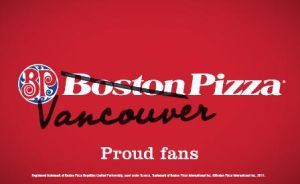 What's in a name? Boston Pizza is hoping fan loyalty.
The pizza chain is temporarily changing the name of its 62 B. chains to Vancouver Pizza to tie in with the Vancouver Canucks' NHL Stanley Cup bid, which kicked off with Game 1 on Wednesday night against the Boston Bruins (won by the Canucks.)
Media for the campaign, which also includes ads on pizza boxes, along the rink boards in Rogers Arena, and along Vancouver highways, was handled by Montreal-based Touché! PHD.
The temporary rebrand, developed by Montreal-based Zip Communications, first began in Montreal at the start of the series when the Habs went up against the Bruins. The creative was similar in that the word Boston was "crossed out" by Montreal.
This time, though, Vancouver had more time to prepare in terms of the promotional activity supporting it, Michèle Leduc, president, Zip Communications tells MiC.
"When our client saw the great feedback [on Twitter and in-store] they were getting from consumers and the instant awareness the campaign was causing for the brand, they decided to do it bigger," she says. "Because there is such a passion for hockey in Canada, everyone is looking for stuff like this. It became a trending topic and the clients saw an increase in attendance at the restaurants."
According to Leduc, the idea for the name change was kept tight in their back pocket for the past year, but because the Vancouver Canucks did not play against the Boston Bruins during the playoffs then, the franchise decided to hold onto it for a while longer.
Boston Pizza also set up the promotion to coincide with its Summer Grill menu promotion, starting this weekend in Quebec, with lobster dishes on the bill.