Daily Planet overhauls for 17th season
The Discovery Canada show adds a co-host with audience appeal.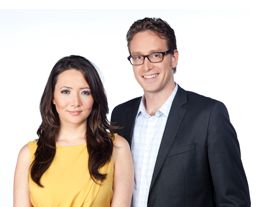 For its upcoming 17th season, Discovery Channel Canada's flagship series Daily Planet is getting a complete revamp to boost its brand.
DP executive producer Jeff MacDonald says the show was primed for a reboot, thanks to significant changes this season, including the departure of longtime co-host Jay Ingram and the debut of his replacement, Edmonton-born Dan Riskin (pictured with co-host Ziya Tong), as well as Daily Planet's big switch to HD.
And while overall ratings are strong – one in three Discovery viewers tune into DP each week, according to BBM numbers, which peg its weekly reach at 1,311,00 in the 25-to-54 demo, and 2,838,000 for 2+ – MacDonald says there's room for improvement.
To that end, the show is introducing a host of new branded segments that will run on specific days, including Road Warriors, featuring weird things on wheels, on Mondays, and Flight Deck on Wednesdays, which looks at aviation innovation.
"We do that content by nature already. We've always had car segments and behind the scenes [content], for example," MacDonald explains. "We wanted to give it a brand, something we can point to on a nightly basis so people can get a better sense of what they can expect."
The choice of Riskin to replace Ingram was also designed to increase audience appeal; Riskin is known to American Discovery viewers for his work on Discovery Science's Monsters Inside Me as well as his guest appearances on The Tonight Show with Jay Leno and the Late Late Show with Craig Ferguson.
Season 17 of Daily Planet premieres on Aug. 29.
From Playback Daily